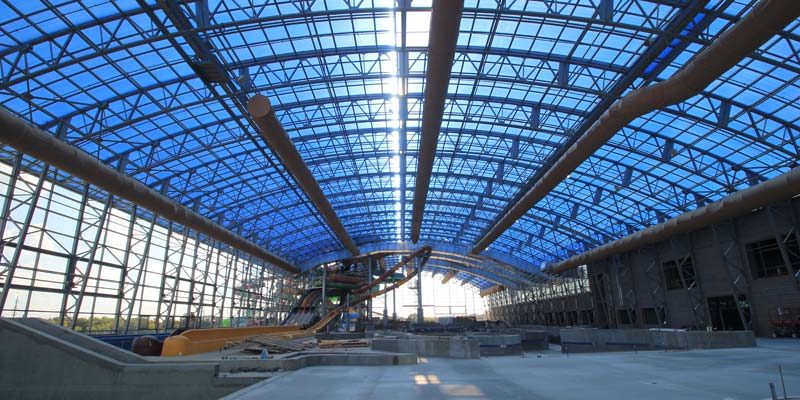 The City of Grand Prairie, Texas has recently received a Gold Medal Award from the National Recreation and Park Association (NRPA)'s for its new recreation center, Epic Grand Central.
Covering 70 ha (172 acres) near the heart of the city, The Epic will offer a huge array of indoor and outdoor recreation facilities for visitors of all ages when it opens next month.
Retractable enclosure developer OpenAire, in Oakville, Ont., helped the city achieve its vision with an innovative 5760 m2 (62,000 sf) operable enclosure design created for facility's indoor waterpark, Epic Waters.
The retractable enclosure has contributed to Grand Prairie's long-term planning and sustainability with its low-maintenance materials and sunlit design that will reduce dehumidification and lighting use by up to 27 per cent compared to traditional structures. The indoor park's 40 retractable roof panels will open to let the sun and fresh air into the park below during the warm summer months. When the weather turns cool or rainy, the panels can close at the touch of a button.
The NRPA's gold medal award recognizes communities across the U.S. that have demonstrated "excellence in long-range planning, resource management, and innovative approaches to delivering superb park and recreation services."
"We were extremely proud to once again be named as a finalist for the NRPA Gold Medal Award," says Rick Herold, director of parks, arts, and recreation for the city of Grand Prairie. "We hope this serves as a reminder to citizens that [our department] is committed to enhancing the quality of life and creating community through our 'gold medal' staff and facilities."
Grand Prairie's history of developing ambitious and forward-thinking parks and recreation spaces for its residents, along with its current project to build the Epic Grand Central recreation center, made the city an ideal candidate for this award. The NRPA gold medal award is presented each year at its annual conference, which brings together thousands of parks and recreation experts.