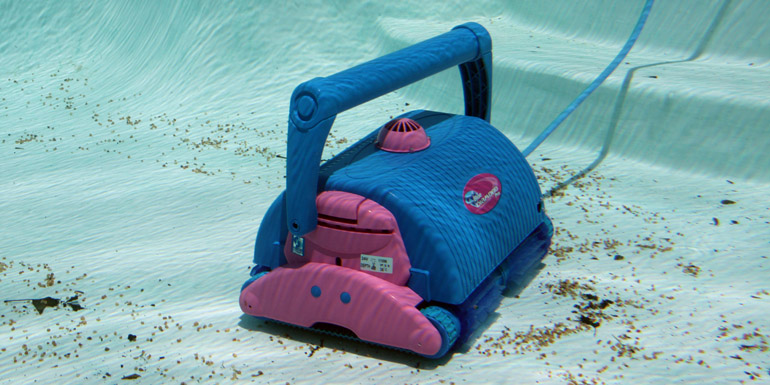 By Richard K. Cacioppo, Sr, J.D.
Editor's note: In November 2011, this author started working with North American and international aquatic health organizations in anticipation of the release of the U.S. Centers for Disease Control's (CDC's) recently published Model Aquatic Health Code (MAHC). His focus was the need to improve methodology and equipment to properly clean public swimming pools. His first step was to found the Center for Public and Lodging Pool Study (CPLPS), headquartered in Princeton, N.J. The CPLPS is currently working with several major manufacturers of robotic cleaners and handheld, extended-reach pool and spa vacuums to conduct a survey in the U.S. and Canada (visiting many of the former Canadian Pacific and Grand Trunk Railway hotels and resorts) on the methods and equipment being used to clean pools in the most elite hotels and resorts in both countries. As part of this effort, these facilities are being supplied with product at no cost for evaluation purposes. He is also collaborating with National Sanitation Foundation International (NSF International) to establish standards and protocol for testing and certification of pool cleaners and vacuums.
Pool cleaning, namely brushing and vacuuming, is a science not an art. A pool (i.e. the water) is a living thing as it constantly changes. Beyond the water and the supporting structure, every pool is composed of millions of living and non-living organisms. Some are innocuous, while others are deadly. Pool water is exposed to every change in the surrounding environment—from temperature and humidity to wind and precipitation, but most of all, bather loads. Indoor pools are less affected by weather and the environment, and more so by their own surroundings as they are restricted to a confined space. It is almost like a reverse process. What is in the pool water evaporates into the air in the indoor space and is inhaled by bathers and pool personnel.
Pool operators have a responsibility to their employers and, most importantly, bathers who use the pool (and spa) facility. An improperly cleaned pool is a breach of responsibility. This can result in financial losses to the organization, and possibly even criminal prosecution.
Failure to properly clean a pool allows dangerous contaminants to remain in the water or even evaporate into the air after it passes through the pool's circulation system. In fact, there is a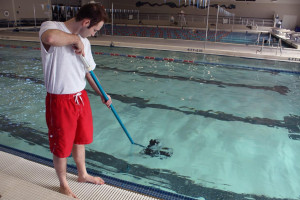 misconception that most filtration systems will sufficiently remove all contaminants from the pool. However, this is not the case and there are several problems with relying solely on the main pump and filter. For example:
Filter systems do not clean the entire pool. They primarily draw water from the surface and pool floor. Debris and contaminants that adhere to the walls, floors, corners, and other parts of the pool's vertical structure are filtered only when they initially enter the water.
Filter systems do not brush and/or vacuum the pool. The walls, steps, floor, and hard-to-reach areas of the pool must be continuously brushed to release contaminants into the water, where dirt, leaves, and even microscopic debris are then sucked into the skimmers or into the floor drains after settling to the bottom of the pool, almost always in the deep end.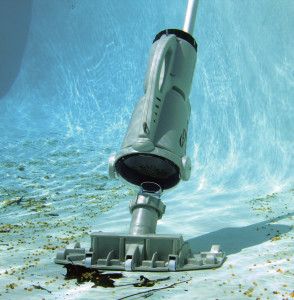 Most pools, when they are being used during the day, are not properly maintained—other than those with state-of-the-art automatic controllers that help pool operators monitor and correct water imbalance, sanitation, lights, pumps, heaters, modes (between spas and pools) and valve actuators. Even the most responsible pool operators monitor proper sanitation not more than a few times per day, some at far greater intervals. In the summer, when bather loads hit peak levels, most pools operate at least 12 hours per day. It is during this time when they are rarely cleaned. Between regular sanitation checks and any corrective measures, bathers can be exposed to whatever is floating in the water or attached to the pool's walls, steps, and floors as well as any cracks, crevices, and corners.
Manual brushing is inadequate
It is impossible to manually brush the entire surface of a pool (i.e. walls, floor, and other areas) on a regular basis as there is simply too much area to cover. Further, even if it were possible, workers are limited to what they can see and, in most cases, if any area of the pool appears to be dirt-free, it will not likely be cleaned. Pool cleaning is one of the three main disciplines of proper water hygiene, the other two being sanitation and filtration.