Robotic pool cleaners: Past, present, and future
As noted in this author's 2011 short book, A Brief History of Pool Cleaners, the first pool cleaner was patented in the United States in 1912 and the first major investigation into pool hygiene was addressed by the American Public Health Association (APHA) the same year. Thereafter, the organization started creating reports and proposals to develop laws and guidelines for proper pool hygiene and safety. In September 2014, the U.S. Centers for Disease Control (CDC) released the Model Aquatic Health Code (MAHC). (This author is a member of the Constitutional Committee of the Conference on the MAHC to modify and implement it.)
Commencing in the APHA's first official report in 1921, which was issued in narrative form by its Joint Committee of Safety Engineers, and continuing through 1984, nine additional reports were issued. In almost each case, it was highly recommended that all commercial pools use pool vacuums on a regular basis.
A current study being conducted in Canada and the U.S. by the Center for Public and Lodging Pool Study (CPLPS) has revealed many pools at the most elite hotels and resorts are way behind the times relative to pool maintenance. According to this author, the study estimates only one per cent of all of these facilities currently use robotic pool cleaners, while the remaining opt to clean their pools manually.
Fairmont Hotels & Resorts, a Toronto-based operator of luxury hotels and resorts, has been invited to participate in the CPLPS study and is being offered a complimentary high-end robotic pool cleaner as well as a handheld pool and spa commercial vacuum, which are ideal for commercial pool operators and service professionals who manage both public and private pools.
As a result, several other facilities have proactively started to incorporate robotic pool cleaners into their pool maintenance routines.
Routine robotics
Robotic pool cleaners can be easily incorporated into the maintenance protocol of any medium-to-large aquatic facility. Their operation is simple: plug it in, program the unit for coverage and length of operating time, and drop it in the water. For example, a typical YMCA pool might be 23 m (75 ft) long, have more than 329,330 L (87,000 gal) of water, and see heavy usage in terms of swimming lessons, water aerobics, swim meets, etc. At the end of the day, after all swimmers have exited the pool, the facility manager/operator starts the daily pool cleaning regimen—in compliance with provincial health codes—before the pool can be reopened the next day.
Benefits of using robotic pool cleaners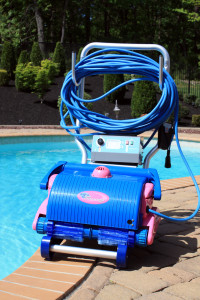 No skill or training is required. Computerized guidance system does all the work.
Saves effort and labour. Simply plug it in and set the program and timer.
Efficiently covers up to 99 per cent of the pool floor.
Robotic pool cleaners travel up to 22.2 m per minute (73 fpm), which is much faster than manual cleaning.
Cleans, brushes, and filters simultaneously. The rotating scrubbing brushes are made of durable, absorbent materials.
Quickly removes debris (e.g. dirt, sand, leaves, insects, hair, pebbles, etc), and breaks up and removes algae and bacteria.
Reduces energy/electricity costs.
Smoothens surfaces and helps to preserve concrete pool finishes.
Certified safe with no chance of shock or injuries to operators or bathers.
A robotic cleaner can pay for itself approximately two years after it is incorporated into an aquatic facility's maintenance regime.
Manufacturers offer different plans to aquatic facilities for leasing and/or purchase options.
The daily closing routine typically involves testing and treating the water. However, one of the latest best management practices (BMPs) used by facility managers is to start the pool cleaning routine by placing a robotic cleaner into the pool first, before performing any other maintenance.
Alex Sutherland, a certified pool operator® (CPO®) and director of facility services for Family YMCA in St. Thomas, Ont., now has his staff start their pool closing routine by plugging in a robotic cleaner and placing it in the centre of the pool first. In one of the United States' grand hotels, The Homestead in Warm Springs, Va., maintained by another property management company like Fairmont, an hour after the facility closes, the manager directs a large crew to spend hours manually cleaning the pools. This is the rule, not the exception in most lodging facility pools.