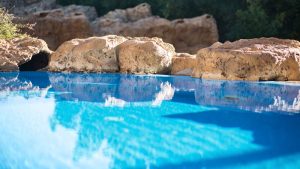 The trend of the COVID-19 pandemic creating historic business for the pool industry seems to be continuing.
As reported by CTV Toronto, pool companies are almost overwhelmed with orders, which in turn, means customers are facing long wait times to see their pool dreams come to fruition.
As per CTV's report, one man from Milton, Ont., ordered his inground pool last July and just had it installed at the beginning of this month.
Frank Blanchet of Betz Pools in Stouffville, Ont., told CTV they are sold out through this year and selling into 2022, something he has never seen before.
Blanchet acknowledged while business is great, it is "frustrating for customers."
"We are running out of materials for pools and for landscaping. We need patience on everybody's end to try and get through this," Blanchet told CTV Toronto in an interview.
The boom in business is also being seen by Harry Martyniuk of Pioneer Family Pools who told CTV his company is seeing an 80 to 100 per cent increase of orders over 2020, which was their busiest year ever.
Martyniuk feels the spike for the industry could continue for a few more years with people having more disposable income due to the pandemic.