Paint finishes
Suppliers often offer a variety of paint options when finishing a gazebo. This allows the client to fully customize how the structure will appear on their property with the ability to co-ordinate the colour with the home's exterior or other structures and features in the yard. Some finishes can also protect the gazebo's exterior from exposure to the elements.
Cosmetic finishes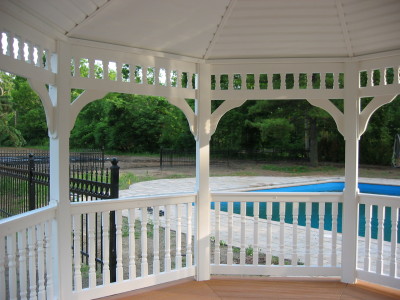 Furthering the client's ability to customize the gazebo are the number of railing, post and brace style options available—from Victorian, colonial and twisted designs to tapered, beveled, plain and square configurations. Not only do these structural elements support the enclosure and provide an element of safety, they can also play a factor in enhancing its esthetic appeal.
Should the client wish to customize the structure further, most gazebo suppliers can usually accommodate these requests, however, additional costs may be incurred.
Building materials
When consulting with the client to determine the gazebo's location on the property, as well as the custom options they want, the materials that will be used to build the gazebo should also be confirmed.
In a climate such as North America, it is important to select a building material that will not only withstand the ever changing intensity of the sun's ultraviolet (UV) rays, but also elements such as rain, snow/wind loads, freeze/thaw cycles, humidity and ground movement. In Canada, the most common building materials used to construct gazebos include:
Pressure-treated wood
Southern yellow pine is commonly used in gazebo construction for its maximum strength and durability. The wood is kiln dried twice, reducing the chance of shrinking and twisting. All lumber is milled on four sides to create a smooth and subtle finish.
Cedar
Similar in construction and style to pressure treated gazebos, cedar structures are made with architectural grade western red cedar. This building material is known for its natural beauty and resistance to decay.
Vinyl
Vinyl gazebos offer the strength and beauty of a traditional wood gazebo, but they are virtually maintenance free. There is no need to seal, paint or stain the structure, as vinyl will not fade, crack, rot or peel. This building material has become a popular choice for busy homeowners who want a gazebo that will look new for years to come.
When it comes to building materials there are plenty of options, what must be kept in mind, however, is the large range of qualities within each material. For instance, the lumber quality not only depends on the species of wood, but also the drying system used to ensure the appropriate moisture content is achieved. The key to vinyl building materials is its composition; over time, poorly formulated composite materials can become brittle and lose its colour, which renders the material useless in both strength and appearance.