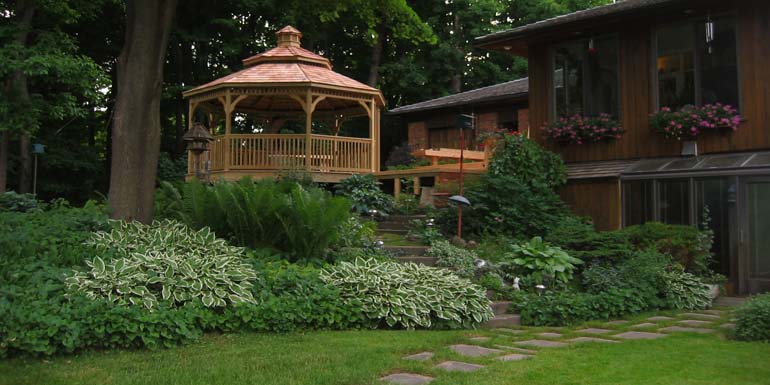 By Paul & Pat Forbes
Incorporating an outdoor structure into the development plan of a property can be an interesting challenge. Installers can expect to face many questions, not only from the client, but also from designers, architects, engineers, landscape contractors, manufacturers and provincial/municipal building departments. Each of these advisors will play a role in determining which outdoor structure is the most appropriate for the property.
Not only should the enclosure meet stringent engineering criteria (e.g. wind and snow loads) specific to the area it is being installed, it is imperative the structure fulfils the client's needs.
What does the client want?
The first step is identifying what the client is looking to accomplish by having an outdoor structure installed. For example, do they want a small structure to create a peaceful setting to enjoy drinks with friends, a large space with all the options for entertaining, a family sanctuary for quality time without distractions, or a beautiful shade structure to enjoy on the property? To help determine what the client is look for, the following questions should prove helpful:
What is the purpose for building the structure?
Where would it be situated best? (e.g. pool or water side, in a garden area or overlooking a valley, etc.)
How many people does it need to accommodate comfortably?
What activities will it support? (e.g. dining, relaxation, games, reading, music, change room facilities, hot tub shelter, exercise area, meetings or parties, etc.)
What options will the structure require? (e.g. bug free, weather proof, sun shelter, etc.)
Will an inexpensive structure with a limited lifetime suffice, or is a value-added enclosure with engineered reliability required?
What structural materials will best suit the client's needs, as well as other landscape features?
Is a maintenance free structure preferred or is the client willing to compromise to obtain the preferred structural material?
What type of warranty are they seeking?
When does it need to be installed
Fulfilling client needs
Once armed with this information, an installer/builder can ensure the client selects an outdoor structure based on their needs first, rather than being inclined to make the purchase decision based on cost. After the gazebo has been selected, then costs and financing options (if available) should be determined. It is always best to go with long-term quality planning, as short-range plans often become more costly down the road. For example, the same can be said when purchasing a new home. A new home buyer may forgo cosmetic options (e.g. installing hardwood floors and/or vaulted ceilings, etc.) from the builder only to have them installed later and pay a far greater price in order to meet their long-term plans.
Most gazebo suppliers have a set of standard designs, which can be equipped with various options to allow the client to modify the enclosure to suit their personal preferences. Should one of these outdoor structures appeal to the client, they can provide a cost-effective option. Some of the custom options include:
Roof styles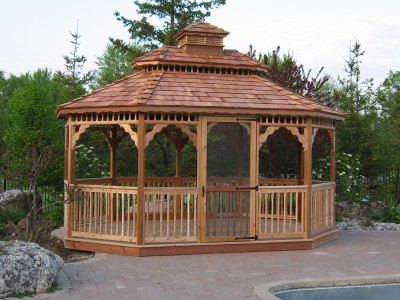 Two of the most popular roofing styles found on gazebos are hip and pagoda. Hip roofs feature strong internal bracing systems, which are pitched inwards. All sides of the roof rise upward and meet at a single point at the top. Pagoda roofs have an eastern architectural influence and feature one or more tiered roofing layers (eaves), which mimic the gazebo's shape.
Roof finishes
Most gazebo roofs are finished with shingles, similar to the roof of a home. They serve to protect the roof by directing the flow of rain water to avoid pooling. Depending on the client's budget and design plan, asphalt, rubber slate or cedar shake shingles can be used. Asphalt shingles are commonly used, as they are inexpensive and easy to install, while rubber slate shingles are popular due to their durability and lower maintenance requirements. Although cedar shingles require a little more work to preserve on the client's end, when properly installed, they give an outdoor structure a welcoming rustic appeal, in addition to providing great weather protection.
Finally, metal roof finishes are another option. They are extremely durable, highly resistant to the elements (e.g. wind, hail and snow) and require very little maintenance. Metal roofs are also energy efficient and offer increased design flexibility.