No longer a simple box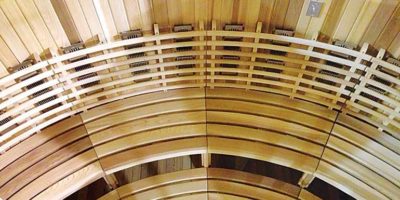 Personalizing saunas, while working within certain space limitations in the home, is a popular request by today's customers. As this trend continues to escalate, sauna manufacturers are making their products more customizable to accommodate this target market. The ability to provide customers with what they want, including all the bells and whistles, is no longer out of reach. In fact, sauna manufacturers are highly capable of getting customers what they want and will work with their internal design team to provide installers with everything they need for specialized projects.
By working closely with the contractor, dealer, homeowner, or builder, there is a definite solution to meet space, shape, design, and/or budget limitations in new home construction projects, as well as when renovating an existing space. That said, there are typically three main sauna options available from manufacturers to accommodate most installations. They include:
Pre-built modular units;
Material kits; and
Interior pre-built assembly units.
Material kits
Sauna material kits are the most popular choice for new home construction, as they simplify the process of installation for builders. Do-it-yourself sauna kits provide everything the consumer, contractor, builder, or manufacturer needs to install the sauna on-site. Kits are often selected by builders or dealers when faced with fixed spaces, where walls are already set in place. In these cases, the project is turned over to the sauna manufacturer, whereby the builder provides the exact measurements for the tile setter and electrician to follow.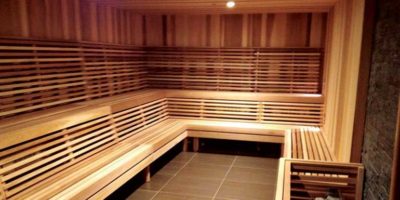 Pre-built modular units
Modular saunas are built at the manufacturing plant and shipped to the installation site as knocked-down panels ready for assembly. This allows for an easy turnkey installation within a couple of hours. For these saunas, manufacturers use the customers' design specifications and electrical limitations, and in turn, deliver a prefabricated unit for installation.
Interior pre-built assembly units
These types of sauna systems are case specific and are increasing in demand. This option is often provided for homeowners who want the sauna to appear as though it was built on-site, but still want the expertise of the sauna manufacturer. It is typically used when a three-sided cubby space is present. In these cases, the sauna is pre-built at the manufacturing plant and then reassembled in the home as a pre-built modular unit; however, it will not look like a stand-alone sauna. The sauna is tailor-made for an exact fit into the space and will look as though it is part of the home or commercial entity.