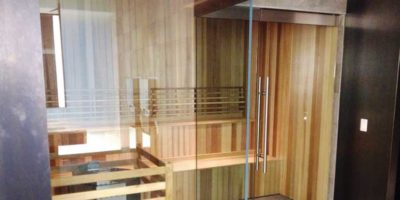 Saunas for new home construction
Currently, new home construction is at an all-time high. Depending on the builder and/or homebuyer, many of these new homes are now seeing saunas included in the architectural drawings. With the house at its preliminary stages of construction, it allows for increased flexibility for more options during the sauna installation. Working with the builder, the sauna manufacturer will guide designers and electricians in all aspects of the installation, including drawings to assist with the vision of how the completed sauna should look.
When saunas are requested in new home construction, the contractor, dealer, or homeowner can use any of the three options discussed earlier. Do-it-yourself kits are installed as described; however, pre-built modular or interior pre-built assembly saunas require a few additional steps.
For the latter two options, the purchaser will provide the manufacturer with drawings, which tend to be flexible. This means during the early stages of design, walls can be removed or eliminated in the drawings to accommodate a pre-built unit. A quote is then provided by the sauna manufacturer based on the plans for the layout, size, and design configurations. Once the job is approved, a detailed drawing is provided by the manufacturer that illustrates the sauna's layout, including door allocation, bench configuration, and electrical requirements. There is no need for an on-site visit for modular saunas unless one is requested.
Saunas for home renovations
Sauna renovations or retrofitting, if given to the right sauna manufacturer, can be a stress-free, turnkey project allowing any space to be transformed into a sauna. Spaces such as cellars, bedrooms, bathrooms, and basements, for example, tend to be the most popular for sauna retrofit installations.
When saunas are requested to be installed in pre-existing spaces, the contractor, dealer, or homeowner will often obtain a do-it-yourself kit. This will then require the purchaser to provide drawings of the space where it is being installed. Once submitted, the manufacturer will produce a quote for the project basing it on the sauna's layout, size, and design. After the quote is approved and the project has been awarded to a particular sauna manufacturer, an on-site service call will be performed to take detailed measurements of the space. A meeting with a licensed electrician and other trades will also take place so everything will be ready for the sauna installation.