Backyard fashion statement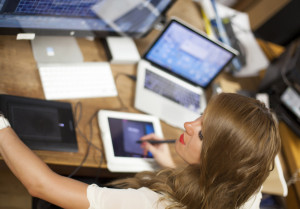 Fashion trends in upscale backyard furniture also influence vinyl swimming pool liner colours and patterning. Outdoor furniture has moved far beyond simple, plastic lawn chairs to luxurious furniture with softer edges and bigger cushions. Door rugs, outdoor curtains, and even backyard kitchens must all tie in to a cohesive outdoor room, and the designer realizes their patterns must add gravitas to the backyard fashion statement.
The vinyl liner pattern choice is heavily influenced by the overall colour scheme of the home and the popularity of rock waterfalls and big benches for lounging; therefore, having a pattern that blends easily over benches and steps, while flowing from a waterfall into the pool, makes certain patterns very popular.
Although there are some regional influences on what consumers choose for their backyard, when designing and developing new patterns, the best designers try not to impose unnecessary constraints on the creative process by designing their in-house patterns with specific regional markets in mind. Rather, they will apply trend forecasting and research during their design process, and then leave it to dealers with rich knowledge of their individual marketplaces to select which liner designs will sell best in their respective regions. An ongoing collaborative process between designers and dealers may include various tweaks to colours and textures by request, or even development of custom pool liner patterns from the ground up.
Tile borders and floor designs
The flurry of innovation in the realm of vinyl pool liner designs is most apparent in creative imaginings of the tile border. The easiest trend to pinpoint is a recent shift toward wider tile repeats: tile borders with a continuous, serpentine look, made possible by a wider tile repeat, which expands the scope of visual interest.
Tile pattern designs traditionally repeated every 228 mm (9 in.), with some patterns comprising two repeats of the tile pattern across the width of a vinyl sheet. Newer liner designs carry a single pattern iteration across 457 mm (18 in.), relying on adjacent vinyl sheets to create repetition. In these newer, wider patterns, the final result is a distinct, complex look—making vinyl liner patterns contemporary and chic.
The trend in some markets in Ontario is for full pattern coverage—which means the same pattern used on the pool's floor is used on the walls, right up to the coping. Many customers want their pools to have an all-concrete look. To achieve this, in conjunction with a borderless liner, some builders use a low-profile grey coping and cantilever the deck or pour it lower, whereby the stone overhangs by 6.3 to 13 mm (0.25 to 0.5 in.).
Consumers today are also looking for a seamless, continuous look throughout the pool; therefore, the tight, dark-speckled floor patterns tend to be popular. As backyards are getting smaller, the trend toward smaller, rectangular pools, which offer a clean, modern look, and full-pattern liners work best in these pools. Coping treatment to swimming pool edges can affect design choices, especially if the treatment would create an overhang that would obscure the top of a tile border. Designers accommodate the variance in construction techniques by creating taller tile border patterns that hold visual interest even when an overhang would partially obscure them.
A clock-work design
The design process can be long. Since the inspiration and development cycle repeats annually, designers are always on the lookout for new ideas and creative inspiration. In general, the period between each February and June sees the following season's pattern designs in development, with a watchful eye kept on liner sales during the summer to pick out any hit patterns; a big, early hit with customers can be sustained with a heavier production run and even changes to other designs to incorporate that same hit quality.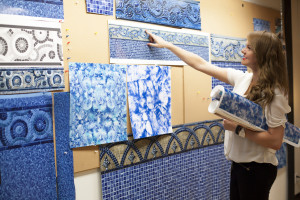 Some vinyl liner manufacturers get involved in the trade show circuit, presenting their liner design concepts to fabricators, builders, landscapers, and consumers from North America and Europe. The feedback taken in from such industry showcases creates a valuable chance to cull less saleable design concepts from the product mix and suggesting improvements to the top designs before the concepts are brought to the market.
Once the manufacturer's annual product portfolio is chosen, designers adjust colours, textures, and make any final tweaks to ensure each design is ready for mass production. For example, tweaks can be as simple as a colour scheme change for a fabricator who may love a pattern, but needs a different colour scheme to meet the demands of a regional marketplace. Even the simplest changes require a complete run through the proofing process to ensure the remaining design elements stay intact and the pattern lives up to its potential.