Vinyl implementation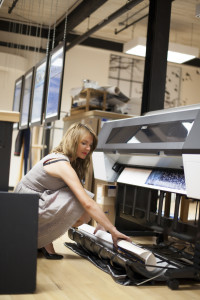 Although liner patterns are initially designed on paper, they need to be created with an eye for being reproduced on vinyl. Not just once, but reproducible always—from roll-to-roll and lot-to-lot.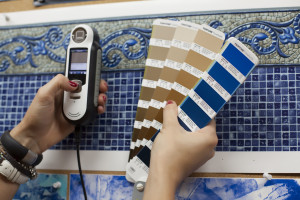 For each finalized pattern, manufacturers engrave a cylinder from which thousands of meters of liner will be printed. Then, a team of workers on the manufacturing floor ensure the pattern is printable clearly and in sharp register. Ink and colour-matching experts stay close at hand to translate the paper design to the vinyl printer. Tight controls in the manufacturing process guarantee durable quality. Every pool liner design must withstand the wear and tear of the swimming pool environment—from water treatment chemicals to extended periods of exposure to ultraviolet (UV) light.
The entire implementation process mirrors the design process in scope, taking several months to produce a single pattern design. All vinyl must be printed and ready to ship before the building season, which invariably makes deadlines tight. It is not unusual for a designer to be on call 24-7 in case the manufacturing department needs a colour press/print check of a particular liner design. For this reason, throughout the design process, a smart designer works with the highest degree of accuracy possible, with the foresight to minimize these eleventh-hour incidents, which could jeopardize deadlines and or possibly delay product shipment.
What is new for 2014?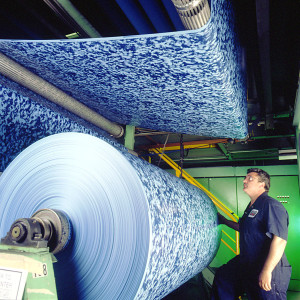 For 2014, fabricators ambitions are increasing. The marketplace is demanding tile border designs that create the illusion of three-dimensional complexity, interplaying with the water's edge. The coming season will also see liner patterns inspired by natural materials synchronized with modern textures. Colour schemes will stay subtle, beautiful, and positioned to work with a versatile assortment of backyard surroundings and styles. Breakthrough advancements in ink and vinyl coating technologies are creating new possibilities for high-gloss finishes, which designers are incorporating into new, ultra-premium designs.
In one sense, however, this is nothing new for industrial designers working within the realm of the backyard: in 2014, the industry will see more patterns created in close concert with what builders and consumers want inside their swimming pools. Involving these audiences early in the design process helps ensure the vinyl liner market stays in touch with today's trends, keeping homeowners at the forefront of backyard fashion.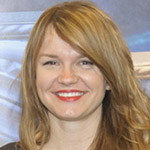 Dominika Marcisz is an industrial and graphic designer for CGT, a manufacturer of vinyl liners for above-ground and inground swimming pools in Cambridge, Ont. She has studied design at the Rochester Institute of Technology (RIT) and Fanshawe College, and won the Golden Cylinder Award for excellence in gravure printing in 2011, 2012, and 2013. She can be reached via e-mail at Dominika.Marcisz@cgtower.com.