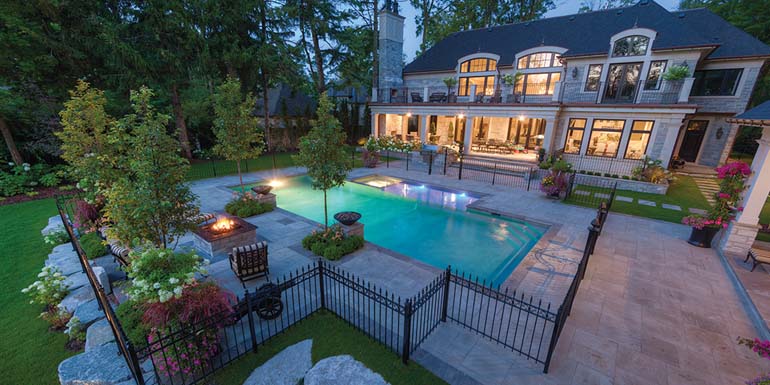 By Jennifer Gannon
Providing homeowners with a beautiful outdoor space is the ultimate goal of pool and spa professionals. Many design elements come together to create a backyard utopia and one often overlooked component is lighting. Without a doubt, when it comes to backyard entertaining, outdoor lighting is no less important than lighting an interior space.
The magic of light
The breadth of outdoor lighting products means there is no shortage of ideas and ways to bring a backyard to life in the evening hours. Four of the common types of outdoor lighting products and usage include:
Underwater lights for swimming pools, hot tubs, and water features;
Light-emitting diode (LED) low-voltage garden fixtures for accent lighting;
Spotlights and floodlights to highlight certain areas or landscape features and motion lights for security; and
Fire features to create warmth and dramatic impact.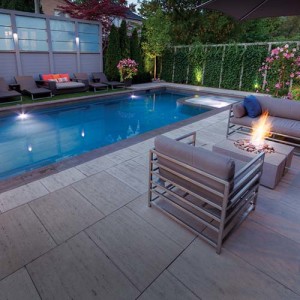 Underwater lights
Swimming pool lights have been a popular upgrade for decades, allowing for a safe evening swim while creating a beautiful reflecting effect. Underwater light options have expanded recently with the popularity of energy-efficient LED fixtures. Previously, only halogen or incandescent fixtures in 100- 300- or 500-watt sizes were available. They were typically placed in a wall niche and connected to a junction box on the pool deck. Many major suppliers offer a variety of these standard fixtures, which range in diameter from 152 to 254 mm (6 to 10 in.). One light installed in the deep end of a pool can illuminate a standard 4.8- x 9.7-m (16- x 32-ft) pool. If a client has a larger 6- x 12-m (20- x 40-ft) pool, it is best that two lights be used, evenly spaced on the long run of the pool wall.
LED lights are typically smaller fixtures, however, they offer colourful options as they can cycle through six vibrant colours: white, blue, green, red, amber, and purple, or can be set to a fixed colour. They are usually 38 to 101 mm (1.5 to 4 in.) in diameter and can be placed within the pool steps, on a wall, or in a hot tub. Powering the lights is a generator box which is connected by a wire and stored in the mechanical area. These fixtures use up to 89 per cent less electricity than standard halogen fixtures and are very economical to operate. Some brands even come with a remote control or can be connected to an automated system. Several manufacturers offer a broad variety of LED choices with a brightness that rivals that of halogen or incandescent bulbs.
LED lights can also be used for sheer water descents, creating a dazzling focal point.