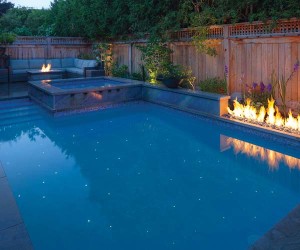 Fibre optic lights
Fibre optic lights are comprised of ribbons of flexible tubing that can be placed under the coping around the perimeter of the pool. They are connected to a control centre or generator that is wired to a remote location or the mechanical area. It is important to note that the light source box needs to be installed as close to the pool as possible to ensure adequate luminosity as distance will diminish the light's brightness.
Floor lights
Floor lights are small bundles of fibre optic lights installed in the floor of a gunite pool, creating the appearance of a constellation. They are, however, labour intensive to install, and can take two people three days just to run the conduits and install the fixtures for 100 lights. Floor lights are available in kits and typically come with 25 fixtures. Multiple kits can be ordered for larger surface areas.
LEDs for accent lighting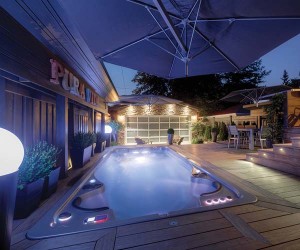 For clients to get the most use out of their backyard, pool professionals should recommend low-voltage LED lighting. It is a great way to profile fine carpentry, stairs, garden features, and walking paths. There are a variety of LED lighting options available to enhance the outdoor space. LEDs boast warm and cool light colours, a long bulb life—typically 10,000 hours—and use little wattage, which makes them not only energy efficient but also low maintenance.
Small circular LED lights can be recessed in stone, pavers, and/or wood decks, while wall- or post-mount fixtures feature a cap to direct light up or down.
One of the best parts about low-voltage systems is how simple they are to install. A basic system with one or more fixtures only takes on average 20 minutes to hook up using a low-voltage cable. As the transformer and cable are all that is required for power, no electrician is required.
Spotlights
LED fixtures have improved in lumen strength and now include high-intensity lights for illuminating a large tree, shrub, garden statue, or exterior wall. The light can now reach more than 76 mm (3 m). Most fixtures come with garden stakes to secure them in the ground and direct the light.
Also, transformers allow the lighting to be controlled by a sensor, timer, or motion detector. The plug for the transformer can be connected to a standard outlet.
Spotlights are often used at the bottom of a water feature to up-light the water or create a reflecting pond effect. These fixtures are sized based on the surface area of the water feature.
Motion sensors are an inexpensive security system allowing illumination in the exterior space when unexpected or unwelcome activity occurs outdoors.