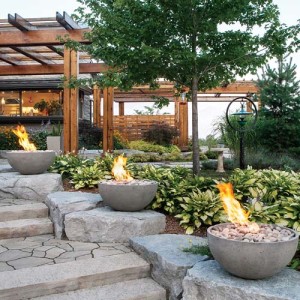 Fire features
Fire is a perfect complement to water features and many pool and hot tub owners want it as part of their backyard design. The popularity of fire has resulted in a full range of gas features, from simple log sets to fire bowls or long linear shapes that comply with most city bylaws and building codes. The light from a gas feature can illuminate a large area of up to 1 m2 (10 sf) or more with heat output ranging from 40,000 to 60,000 BTUs. The effect is stunning and clients often say it brings back memories of sitting around a campfire only with the convenience of lighting the feature in the same way as a barbecue. No wood chopping required!
There is a lighting product available—whether on land or in water—to create an outdoor space to meet clients' needs and esthetic preferences. Outdoor lighting adds an extra element of décor, illuminating architecture, garden, and water features while creating a cozy ambiance. Bring on the night!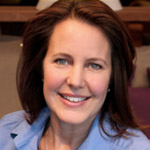 Jennifer Gannon is a second generation business owner who operates BonaVista LeisureScapes, an outdoor living store in Toronto. She studied English at the University of Western Ontario and has been with BonaVista for more than 15 years before and after a career as an account director at two Canadian advertising agencies. The company is a family-owned and operated business with more than 40 years of experience in custom concrete water projects, backyard spas, and water features. She can be reached via e-mail at jennifer@bonavistapools.com.