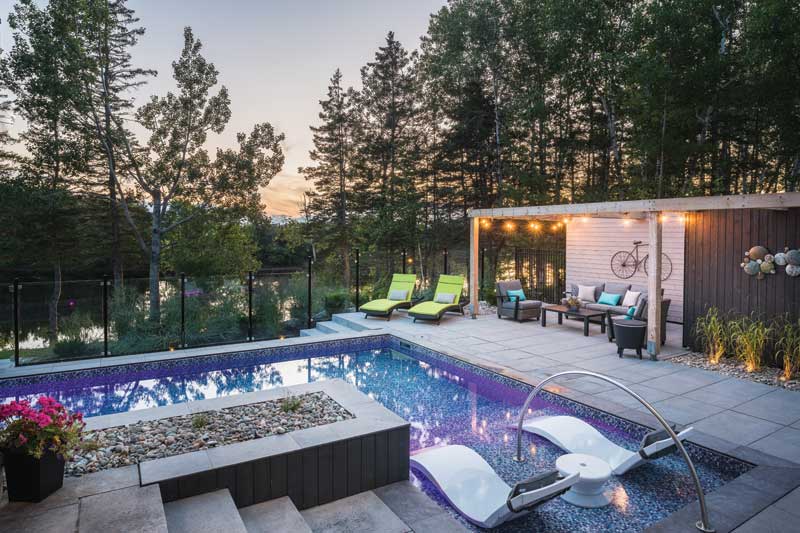 Waterworks Pools & Spas in Moncton, N.B., started this backyard pool and landscape project design in January 2018. After preparing the complete conceptual plan and the working drawings for the project, it was tendered out (other than the carpentry work, which was handled by the home builder and was not part of the contract). Waterworks also handled site inspections and scheduling of contractors throughout the project.
Over the past 15 years, the author, as the company's lead designer and project manager, has pursued education opportunities to improve the business and the landscape projects he designs and builds for his clients. Much of this education has focused on implementing and understanding the principles and elements of design. It has also resulted in a very detailed design process that produces landscapes that work with his clients' lifestyles, the architecture of their home, and the site.
The principles and elements of design are the fundamentals of any project. Construction of this particular job started in May 2018 and was completed that summer, in August. This project provides a good example of several major principles and elements of design.
A point of view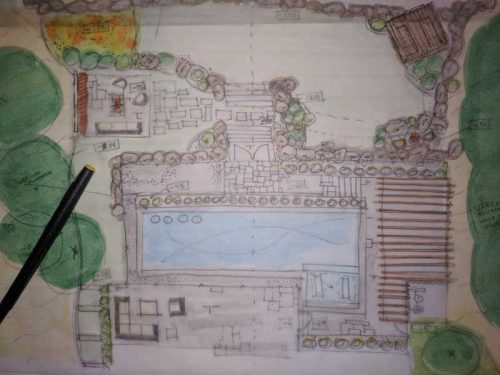 In early 2018, Waterworks Pools & Spas received a call from an existing client who said they were in the middle of construction on their riverside summer home in Shediac, N.B. The backyard was unadorned and very sloped, but it had a beautiful view. They wanted a pool, along with several landscape features for the whole family to enjoy.
On arrival, it was obvious why the clients wanted to draw attention toward the spectacular riverfront. The property has a thin row of trees on the bank of the Scoudouc River, with farmland and forests on the far side. During some site visits, boats and jet skis were seen on the river where the client planned to add a dock to the property. The backyard's downside, however, were its major slopes—nearly 4.5 m (15 ft) from the front yard to the bottom of the back, and nearly 2.4 m (8 ft) in the back alone. The house has a walkout basement, so from the rear, it is a 3-storey house, which is an imposing figure from the backyard.
The client asked for a fenced pool and preferred a rectangular design that offered an in-pool lounge area. They also wanted a firepit and grassy area for the kids to play soccer. The view from the house was stunning, so they did not want to disturb it. Several seating areas in sunny and shaded spaces for lounging and entertaining were also important. The builder asked the client several more questions to understand how they planned to  use the space. Since the homeowner had already owned a pool, Waterworks wanted to know what they loved about it and what they would do differently. Once they had all of the details, they got to work on providing a complete design concept for the front and backyard.