Installing automatic pool covers is the specialty of Pool Patrol in British Columbia. The company sells as many as 100 auto-covers every year in Vancouver, Victoria, Okanagan, and Kelowna; therefore, it was no surprise when the installer was contacted about a new project—a 5-m (16-ft) wide by 29-m (95-ft) long pool in need of a cover.
It was a good thing the builder and contractor knew the importance of consulting with a cover professional before starting construction, as special considerations were required due to the sheer size of the pool. Allan Horwood, Pool Patrol's owner, was consulted prior to the pool being constructed, and two years before the cover was installed.
The pool
The pool sits on a large property, roughly 0.8 ha (2 acres), located in the hills overlooking the greater Vancouver area. The pool's interior is lined with small, coloured-mosaic tiles, while the concrete deck has a modern design that is accented with a dark-green tile arranged symmetrically to create a clean, stunning visual effect.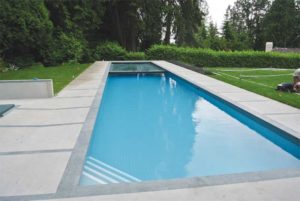 Initially, Horwood had a few concerns about installing an automatic pool cover of this size; therefore, to guarantee it would meet the homeowner's high-expectations for the project, he contacted his cover supplier to address a few things:
Would the weight of the cover fabric be too heavy for the drum mechanism?
Would the standard motor be strong enough to handle the operation of such a long cover, or would a higher torque motor be required?
Would there be enough room on the reel to accommodate 29-m (95-ft) of rope?
"Having worked on another project for this homeowner in the past, we didn't want to commit to something that wouldn't be perfect," said Horwood. "At the same time, our company thrives on doing complicated, one-of-a-kind work, so we looked forward to the challenge."
Housing the cover
The homeowner was particular about every aspect of the pool design. One of the client's main wishes was having a solid deck above the cover roll-up (i.e. no lid on the pool deck). Therefore, it was imperative for the cover to be housed entirely below the deck so it would not infringe on the architectural beauty of the pool surround.
As this type of installation could prove to be tricky, Horwood explained to the client that a large space would be necessary to house everything below deck—not just for the mechanism and cover, but also for the crew that would install and maintain it. Therefore, a 1.8-m (6-ft) tall bunker had to be created under the deck, which would allow technicians to stand up and easily move around.