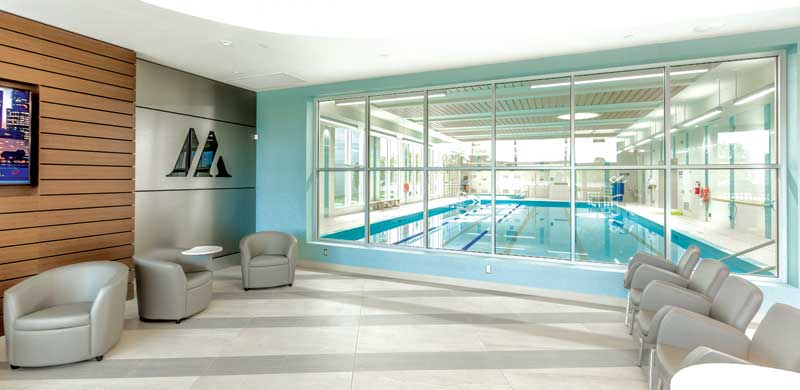 Movati Athletic Clubs are a Canadian chain of high-end athletic clubs with 17 locations in Canada and an 18th venue opening soon in Edmonton, Alta. The 17th club was built in 2020 in Windsor, Ont., and had a soft opening despite the pandemic. Like all Movati Clubs, the Windsor location offers an upscale 6503-m2 (70,000-sf) facility, including two separate pools with two separate hot tubs.
For those joining a Movati Athletic Club, it feels like having a membership to six boutique studios and a premium fitness club, all under one roof. One of the most unique aspects of the club is it offers a women's only section—a club within a club that has its own pool and hot tub.
Richard Deakin from Hollandia Pools worked with Movati to build the pools and hot tubs, in addition to configuring and installing the pool pump rooms in almost every Movati Athletic Club across Canada. According to Deakin, Hollandia and Movati worked together to create a consistent design for its pools and hot tubs across all its locations which adhere to all local health codes, have energy-efficient pump room equipment ensuring the highest water quality, and use a uniform layout across each facility for ease of maintenance.
A tale of two pools and two hot tubs
In each Movati facility, there is a co-ed family pool with an adjacent hot tub, as well as a women's only pool with its own adjacent hot tub. In the Windsor facility, the co-ed family pool is 9.1 m (30 ft) wide by 20.7 m (68 ft) long with a 3 m (10 ft) by 3.6 m (12 ft) hot tub. The women's only pool is 9.1 m wide by 18.2 m (60 ft) long with a 1.8 m (6 ft) by 2.4 m (8 ft) hot tub. Originally, Movati wanted to combine the hot tub to spill-over into the pool; however, Hollandia pointed out that, due to Canadian health codes, commercial pools and hot tubs cannot share water as their chemistry is different.
Once Movati landed on a design they liked and knew worked, they standardized the design across all their athletic facilities. In doing so, they have also been able to standardize equipment and layout. Deakin says the pool and hot tub design is straight-forward and clean using standard rectangular shapes. The hot tub is completely tiled, giving it a high-end, finished look. As with all commercial hot tubs in Canada, the height of the seats, number of jets, etc. are dictated by provincial health and building codes.