By Lauren Roberts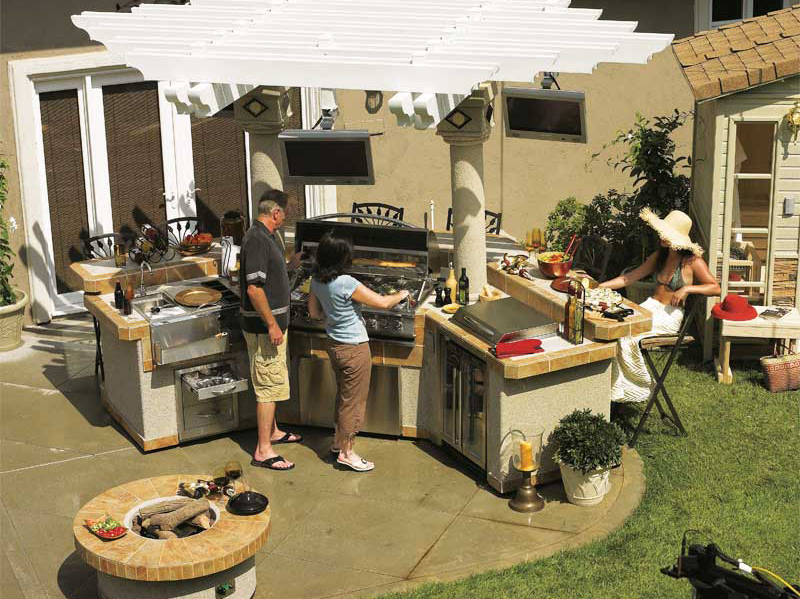 In recent years, outdoor living spaces have become one of the most popular home renovations/upgrades, and their popularity only continues to grow. Transforming a backyard into a home resort by incorporating features such as outdoor kitchens and hot tubs have become a huge trend. Adding these components provides homeowners with another option to indoor meal preparation and is a great way to enjoy the outdoor landscape while socializing with family and friends.
The modern-day outdoor kitchen now offers everything a cooking enthusiast needs to create gourmet meals without being confined to the indoors. Further, hot tubs are now designed to complement outdoor kitchen areas, as they co-ordinate with and enhance any backyard décor. The two elements combined provide the perfect mix of outdoor cuisine, fun, and relaxation.
With all projects, many options must be considered before moving forward with the actual project. To find out what the homeowner really wants, it is important to ask questions that narrows down what kitchen features and appliances they want, as well as what size hot tub they are looking to incorporate into their backyard. Their answers will paint a picture as to what their ideal home resort would comprise, which will become the blueprint for the design of the outdoor living space.
Today, many hot tub manufacturers offer everything that is needed to create a complete home resort. For example, kitchen islands come in various styles and sizes to create gourmet outdoor kitchens that include convection grills with backlighting for nighttime cooking amongst many other possibilities.
Choosing an outdoor kitchen
Deciding where the outdoor kitchen will be located, and whether it will be a permanent or portable structure, are some of the first steps. While both types of installations will allow a homeowner to prepare food outdoors, there are advantages and disadvantages to each.
A portable kitchen island is a relatively inexpensive way to create an outdoor cooking environment. This is usually a more cost-effective choice that garners wonderful results. They can be as elaborate or basic as the homeowner likes, as almost any type of kitchen appliance and grill can be added to suit their needs.
Most of the same features that can be included in a permanent outdoor kitchen can be incorporated into a portable design. With the appropriate electrical plug-ins, a portable kitchen island offers the same advantages of a permanent structure, but a homeowner also has the option of moving it should they relocate.
For homeowners looking to add value to their home, a portable kitchen island is probably not the way to go. Although less expensive, it does not have the long-term advantages a permanent structure does. A stationary outdoor kitchen is a good choice if a client is looking for a return on investment (ROI) by increasing the resale value of their home. These kitchens offer broader options and more flexibility with respect to customization when incorporating personal specifications (e.g. sufficient space for food preparation and cooking). In fact, these kitchens can incorporate all of the same components and functionality of an indoor kitchen.
While these can be an attractive selling feature for potential buyers, the drawback to installing a permanent structure is the considerable upfront cost. Homeowner's must be willing to make an investment in spending quality time with family, as well as their personal happiness, by creating the ideal space. Some of the costs involved with these structures include flooring, countertops, seating, lighting, electrical, and plumbing. Maintenance is another consideration, as it will be required from time to time due to wear and tear that can be caused by occasional inclement weather. Proper maintenance and protection (e.g. covering certain components) can help prevent unnecessary damage, however.
That said, mouth-watering menus are now being created for outdoor preparation and the appliances required to concoct a delectable meal are becoming more advanced to provide all of the luxuries of an indoor kitchen. Some of these amenities include: refrigerators, sinks, deep fryers, pizza ovens, storage space, convection grills, and much more. The look can also be customized to include various stone or stucco finishes, fireplaces, and flooring in an array of materials.