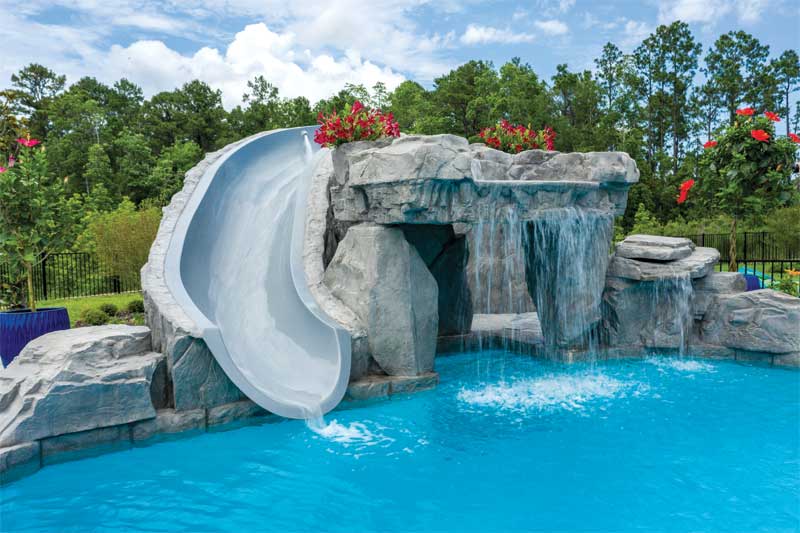 With the surge in demand for all things pool and backyard living, consumers are actively looking to create an at-home vacation experience with water features on pools providing beauty and fun for the entire family. To create custom water features with the appearance of natural rock, glass-fibreglass-reinforced concrete (GFRC) panels have quickly become popular for pool builders who want flexibility and ease of installation. Whether it is enclosing a slide, building a grotto cave and water feature, or simply adding a small waterfall or fire feature, GFRC panels and rocks provide a lightweight, yet extremely strong system allowing pool builders to create beautiful and fun custom water and fire features around the pool.
Creating a custom design
As pool builders embark on putting together a GFRC rock feature on a pool, one of the best places to start is with the slide. When it comes to making pools fun, slides are by far one of the most popular accessories—especially for pools being used by children. However, slides tend to stand out from the overall design of the pool, so GFRC panels can be a clever way to integrate these accessories into the deck and coping. They are also an excellent starting point from which to create a custom rock design on a pool.
Shaun Lambert of Lambert Custom Pools in Springfield, Ill. is a big fan of using GFRC panels to create custom enclosed slides and water features on the pools his company installs.
"We know filling in around and behind a slide with rock gives the pool a much more integrated look," says Lambert. "We like using GFRC panels and boulders because they are very realistic-looking, and the product is easy to work with."
Lambert says he has enclosed and integrated many slides on pools, most of which also have an adjacent grotto, cave, or other water feature.
"We always show customers photos of our GFRC work and those homeowners that can afford it, want their pool to look like the photos we show them," he says.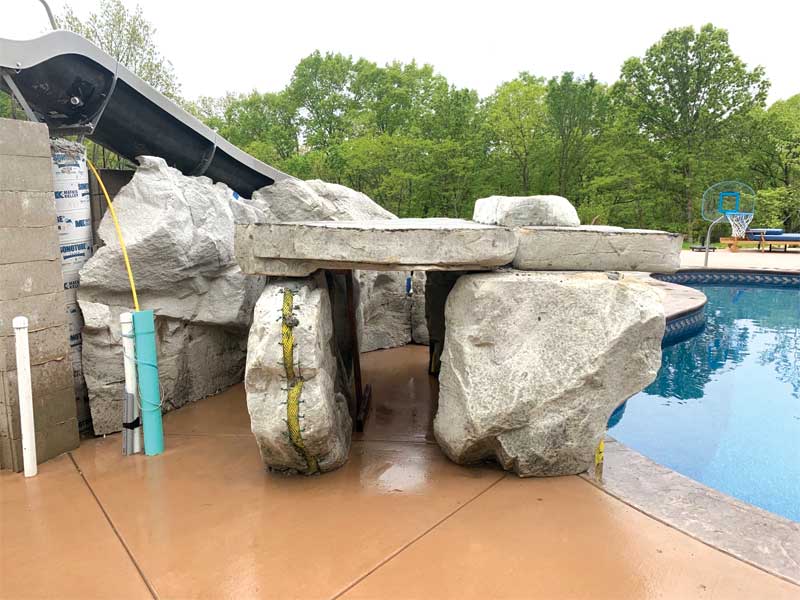 Once a rough design is agreed upon, builders work with the manufacturer to determine what to order.
"We start with a rough design that allows us to determine how many and what size GFRC panels and rocks to order, but we also do a lot of 'design on the fly' once everything is laid out on the job site," explains Lambert. "You definitely need to have a designer's eye on site to put all the pieces together to make them look like one big rock.
"The factory offers design help as we tell them the size of the slide and elevation and they will help us determine what it will take to enclose the area below the slide. They will also design a rock staircase that will lead up to the top of the slide, using a combination of boulders and GFRC panels," says Lambert. "We email back and forth with the designers so they can help ensure we get the correct tread heights and widths going up the slide so everything lines up."
Just in case, Lambert generally orders a few extra panels and boulders in addition to everything he thinks he will need for the job.
"Because there is customization involved, you don't want to be stuck waiting for an extra panel on the job you didn't anticipate," he says. "It's best to order more and save any extra materials for use on a future job."
Covering up slides tends to be a starting point around which many pool builders create more expansive custom water feature designs. By using the slide enclosure with a faux-rock staircase as a starting point, it becomes easy to add a water feature, grotto, or jump rock. Water features and boulders on either side of the slide can give a pool great visual appeal and more entertainment options. This also creates spaces where pool builders can add fire and lighting features to the custom rock structure.
Selecting the type of GFRC 'stone' is also an important part of the design process. It might be obvious at first but selecting the right stone for the landscape helps ensure the finished project is cohesive in its design. There are GFRC panels and rocks designed to look like granite, limestone, or fractured stone. Pool professionals should look to select stones like those found in their region of the country.
"You want the style of the stone to look like it comes from your area," says Lambert. "Here, in Illinois, I'm not going to pick a fractured stone look you would find in a place like Wyoming because it will look out of place."