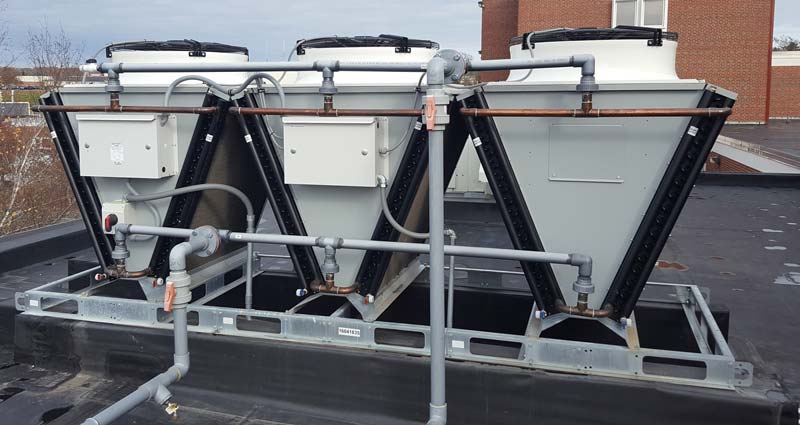 Since local contractors may not have the necessary experience to maintain a dehumidifier, many manufacturers offer different tiers of factory service, such as a quarterly equipment checkup and air filter replacement, which can also be combined with a full annual inspection. In the first option, a local contractor would facilitate filter replacement, which is a common practice for all types of HVAC equipment. However, during the maintenance call, factory service technicians can access the unit remotely (if it is equipped with a web browser-based access system) and guide the contractor via telephone to perform a technical operations checkup. The contractor would also photograph each dehumidifier compartment for historical reference, which the manufacturer keeps on file. Pictorial and historical references help future troubleshooting. If an issue beyond the contractor's routine capabilities is detected, a regional factory representative can perform an on-site visit to fix the problem.
The web browser-based communications feature, which is now available on many dehumidification system brands, emphasizes the importance of never disconnecting the unit from the Internet. Doing so severs the line of communication, alarms, and notifications between the unit and the factory, which will ultimately impede the troubleshooting process when service is required.
Facility manager homework before the service call
Before calling a service company when environmental conditions appear to be degrading, the facility manager should review what the temperature set points are for the pool water and interior space, along with the RH for which the natatorium was designed. The design engineer, mechanical contractor, or dehumidifier manufacturer should have the data if it is missing on site. Adjusting water or interior temperatures away from the designed set points of the facility, even by a degree or two, can skew the conditions of the indoor environment. Further, activities performed in the facility, which may not have been considered in the original design, such as senior swims with warmer water, or large spectator-attended swim meets, can also alter the indoor conditions.
When to replace a dehumidifier
Top three signs of a malfunctioning dehumidifier
The natatorium is not operating at a negative building pressure.
The pool water discharge temperature (with dehumidifiers that have a pool water heating function) and the pool water temperature have less than a five to 10-degree differential.
Pooling of water inside the unit, which may be caused by poor draining or cabinet seals (in outdoor units) can lead to premature corrosion.
Like any mechanical equipment, dehumidifiers have a life expectancy that can range between 10 and 20 years, possibly even longer depending on the periodic maintenance it has received and how well the pool's water chemistry has been maintained (balanced). Sometimes it is more economical to replace an older dehumidifier, especially if it continually requires extensive maintenance.
Ongoing refrigerant leaks and repairs are probably the most common reason for replacement. Refrigerant leaks are infrequent for systems that are properly maintained and operated. However, leaks are not impossible and they may occur over the lifetime of the equipment. More importantly, if leaks are frequent, they should be meticulously recorded. Multiple leaks that occur in the same year could indicate the end of the system's lifecycle and the need for a major renovation.
Another reason for replacement is R-22 refrigerant, which was commonly used by manufacturers from 1980 until 2010. This refrigerant (R-22) is a hydrochlorofluorocarbon (HCFC), which was banned internationally from manufactured units in 2010. Due to the refrigerant's ozone-depleting potential, it will be phased out completely by 2020. The refrigerant has steadily risen to unaffordable prices due to a continuing demand and a dwindling supply. An R-22-based dehumidifier, which can potentially contain hundreds of pounds of refrigerant, would incur a devastating replacement and repair costs in the tens of thousands of dollars.
Instead of risking a budget-busting repair and other liabilities associated with refrigerants, it is better to replace the dehumidifier with a unit using a reduced amount of refrigerant. Like most mechanical dehumidifiers, these units still have a refrigeration circuit for condensing moisture out of the return air stream; however, for heat rejection, they use propylene glycol, which is environmentally friendly and can reduce the volume of refrigerant to a small fraction of what a conventional dehumidifier uses. A propylene glycol leak is unlikely to happen, but should one occur, it is less costly to repair and has low impact to the environment.
A dehumidifier may work perfectly fine, but the natatorium environment can still be uncomfortable due to reasons beyond the mechanical equipment. A natatorium is a unique synergy of building envelope (design, construction, and materials), air distribution, mechanical HVAC equipment, and water chemistry. Any dysfunction of one or more of these elements will result in an uncomfortable and energy-inefficient environment.
The key to good aquatic facility management is to know the functions and set points the system was designed for, review the total operation periodically, and maintain a close relationship with the manufacturer and its authorized service technicians.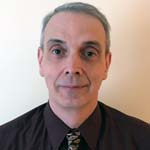 Eric Cournoyer, P.Eng., is the service manager for Dehumidified Air Services (DASV) in Montreal, a newly created service division of Dehumidified Air Solutions (DAS), which services North America's three largest dehumidifier brands, Dectron, PoolPak, and Seresco. Cournoyer has a chemical engineering degree from the University of Ottawa and is a former director of engineering for HVAC air purification manufacturer, Circul-Aire, Montreal. Most recently, he served as process engineer at GEA Barr-Rosin in Boisbriand, Que. Cournoyer can be reached via e-mail at ericcournoyer@dehumidifiedairsolutions.com.