By allowing each employee to be responsible for their part in internal communication will help strengthen the chain. This is not to suggest management and the role they play in an organization be ignored; rather, providing them with the right tools to gather feedback and the ability to provide one cohesive report per department proves to be much more efficient for a business. Having a platform that encourages two-way, open communication will provide valuable information to better understand employees at every level. This also helps each member of the organization realize what they say and do matters.
Employees welcome the idea of having clearly defined company and individual goals. Understanding the plans for attaining these goals helps with an employee's overall confidence and the value they are contributing. This helps them feel what they are doing, day in and day out, plays a significant role in the overall function of the organization. That said, a company can use its internal communication as a way to recognize its employees. For instance, what has an employee done to go above and beyond? Is there a specific department that met its goal? Taking the time to establish a strong internal communication system can motivate employees and help them all work toward a common goal.
How companies can execute?
Having clearly defined processes in place is essential to efficiency and growth of any organization. It is what holds everything together. These processes should be laid out for every job, within every department, across the entire organization.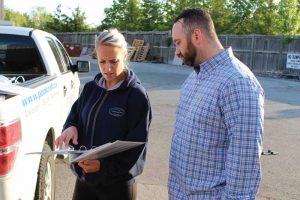 Imagine what the day would look like if there were no set guidelines for how things should be done. Even with each employee having their own job description of what they are looking to achieve, the chances are pretty slim everyone would follow the same way of achieving the tasks. Business operations rely on tasks that must be completed daily, weekly, monthly, seasonally, or yearly to ensure it runs smoothly. If the processes are not standardized, a business can expect confusion, inefficiency, and even chaos.
It is important to consider the business's core processes. Even the simplest tasks, if not defined, can become inconsistent. For example, is there a process in place of how the phones should be answered? When a customer calls, should they hear, "Thank you for calling ABC Pools, this is Kate speaking, how can
I help you?" or is "ABC Pools" enough?
Or, what about a larger task, such as loading a truck in the morning when building a pool that is 56 km
(35 miles) away? Is there a process or checklist to be followed outlining all of the equipment and supplies that will be needed for that day or do installers just throw some tools on the truck and hope they will be able to get by with what they have? It is likely the task can be accomplished either way; however, it is easy for one to see which method relays a higher sense of professionalism and customer service.