The leisure pool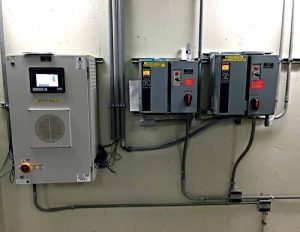 Students wanted the pool to embody a resort-like aquatic facility, thus the leisure pool was designed with typical features, such as a 200-mm (8-in.) water ledge where swimmers can lounge, but still work on their tablets or mobile devices.
"In addition, we included a vortex feature—
a semi-circle where the water moves around, creating a current for bathers to walk against." said ADG's principal and aquatic consultant on the project, Justin Caron.
The feature is unique because the vortex can be turned on or off as desired. This allows bathers to indulge in some physical therapy when walking against the current. When the feature is off, the area remains a calm, shallow pool where people can relax.
A bench seat was added to the design, which faces a large, 3- x 6-m (10- x 20-ft) video board where movies and sports are shown. The display also features school announcements and doubles as a score board when the university hosts local community swim meets.
A basketball hoop and volleyball net also add to
the ambience.
The pool also has an accessible beach entry designed with curves, partly due to a lack of deck space. The entry allows people with mobility issues, injury, or those who want to enter the pool slowly, to access the water with greater ease.
The original design of the pool was larger than its actual size. However, due to budget constraints, the plan was revised from four lanes down to two, which reduced the project cost by nearly $1million. In the end, the two lanes proved to be more than adequate for the university community.
The pump room
On this particular project, the pump room was placed beneath the pools; this was done specifically to save energy. Pumps are effective in pushing water up, but poor at pulling it down. Therefore, designing the room right below the pool, allowed water to flow downwards using gravity rather than power. By using this type of system, known as a flooded suction pump design, the facility is able to reduce its energy consumption by more than 50 per cent when compared to a self-priming pump system.
The energy-and-water-efficient equipment used in the pump room contributed to the aquatic facility's gold LEED rating.
Selecting energy-efficient equipment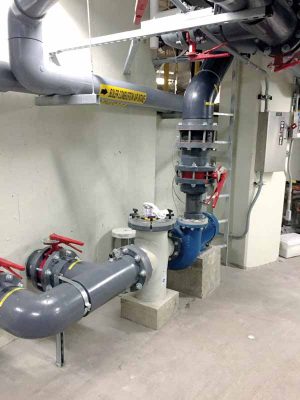 As is the case with all new aquatic centres, the equipment selected to operate the pools is key to the long-term success of a facility. ADG adhered to specific criteria for evaluating each piece of equipment to be installed in the pump room. Its main considerations were:
Availability of the equipment, which included proximity to the aquatic facility, servicing, and maintenance;
Warranties on each piece of equipment; and
Overall expenses, which included front-end, operation, and life-expectancy costs of the equipment for the next 20 years.
To reduce energy consumption by the pools and lower operating costs, Paddock installed specific 'green' products, which included a stainless steel gutter system and a high-efficiency air-quality handling system. Some of the other products were: