By Jason Mitchell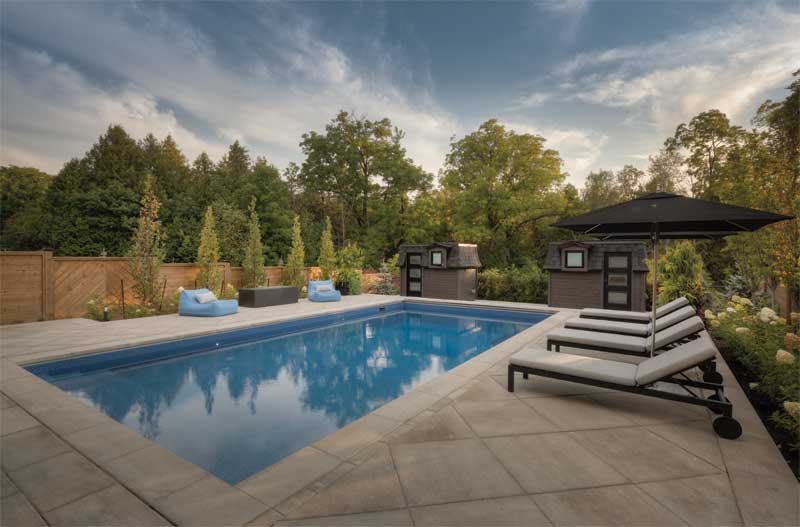 The ability to complete a homeowner's dream backyard oasis is a gratifying experience for any pool builder. Every project is distinctive in its own right and is met with unique challenges that need to be overcome—including a global pandemic.
Although the client's budget, size of their property (including any slopes), and municipal restrictions will ultimately determine the outcome of each project, a backyard complete with a pool and entertaining area is the minimum requirement for most. If any one of these factors presents a challenge, there are a number of ways to work around them.
Often, it is the liner selection process that can take some time to confirm as each homeowner attempts to use this element as a way to insert their last artistic impression on the project. That said, this homeowner knew what they wanted. What was important to them was having a nice contrast between the pool water and their patio and, therefore, they chose a full-print, dark blue liner.
Although this project started in the fall of 2019 and was finished in May 2020, which was not the target completion date, the delay was not a result of site challenges or an indecisive client. In fact, COVID-19 created some unforeseen delays which impacted the construction schedule. In this regard, the client was extremely accommodating while Pool Craft worked through the challenges caused by the pandemic.
The dream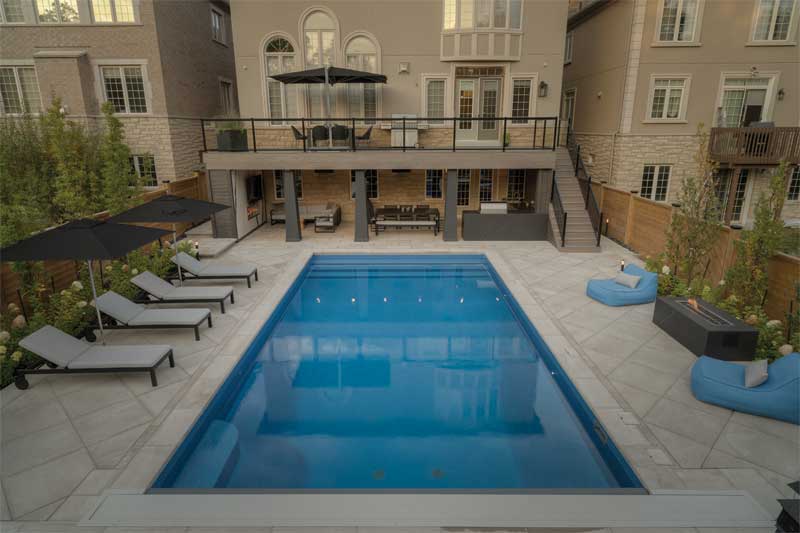 Being avid entertainers and hosts of family gatherings, this homeowner in Vaughan, Ont., called upon Pool Craft to design and build a complete backyard oasis perfect for guests of all ages. The property, which includes mature trees protected by conservation land, provided the perfect backdrop for the 5.5- x 10.6-m (18- x 34-ft) rectangular pool with 5.5-m (18-ft) wide vinyl over steel (VOS) steps and a 1.8-m (6-ft) VOS bench situated in the pool's deep end adjacent to a strategically placed fire pit in the patio area.
The 83,600-L (22,084-gal) pool is also equipped with a charcoal-coloured automatic cover which co-ordinates with the colour palette selected for the backyard's design.
In addition to the pool, the homeowner wanted a covered area and deck 3.6 x 11.5 m (12 x 38 ft) off the house with a natural gas fireplace, built-in kitchen, and space for generous seating and dining areas.
Overall, the main priority for the homeowner was for their backyard to have a modern, clean look that included subtle upgrades that were particular to the client's taste such as having a porcelain-finished wall under the raised deck and custom sheds positioned at the rear of the lot.