By Noble Hibbs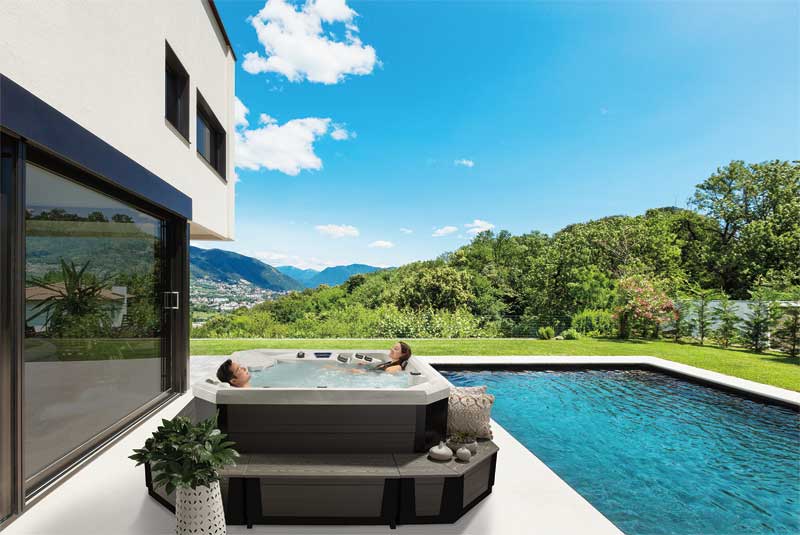 To stay relevant and profitable in an era of big-box mega merchants and fly-by-night super sales, it is vital to elevate the customer experience in ways that translate to the bottom line. That said, modular hot tub environments are a great way to keep a showroom on-trend and operating in the black.
Speaking of trends
From a backyard living and patio design perspective, traditional and lip-mounted gazebos, along with shoji houses, have become a thing of the past. The demands of maintaining natural wood, like the staining required to keep the wood grain full, is more of a hassle than most consumers want. That said, wooden pergolas seem to be holding their own, as well as pergolas constructed with vinyl or glass fibre and reinforced concrete (GRC).
Increasingly versatile solutions like roman shade canopies are gaining momentum. The ability to transform a deck or patio from being covered to uncovered is appealing to many homeowners. They can escape the sun during the day, while enjoying unobstructed views of a starry night. Some fabrics offer a 99 per cent shade factor in a variety of colour options, ranging from solids to stripes. Mesh options are also available, which offer a 75 per cent shade factor.
The biggest trend seems to be 'outdoor great rooms,' combining outdoor kitchen space and seating with amenities that extend usability into cold weather, such as gas fireplaces, patio heaters, and fire pits. For comfy outdoor sofas and chairs, the go-to fabric choice is fade-resistant and waterproof acrylics, also popular in 'sling' furniture sets.
Lighting remains a priority, especially variable systems with different colour and brightness combinations. Again, homeowners appreciate versatility, creating different ambiance levels from intimate to bold. And finally, the great room concept would not be complete without ultra-high definition, high-dynamic range TVs designed for outdoor use, which are typically backlit to allow daylight viewing. Across the board, the common denominator is quality, with homeowners willing to invest in products and materials that last.
Colour palettes are shifting away from beiges and light browns toward greys, true blues, green hues, and bright accents that contrast or co-ordinate with a background atmosphere. Natural wood tones ranging from warm to dark remain fashionable, with black accents are as classic as ever. In terms of materials, glass is out while wicker and waterproof acrylics are in. Concrete, natural stonework and budget-friendly alternatives like porcelain pavers are coming into vogue. Low-maintenance, durable products such as composite decking and extruded synthetic polymers are the new standard.
Focusing on the hot tub area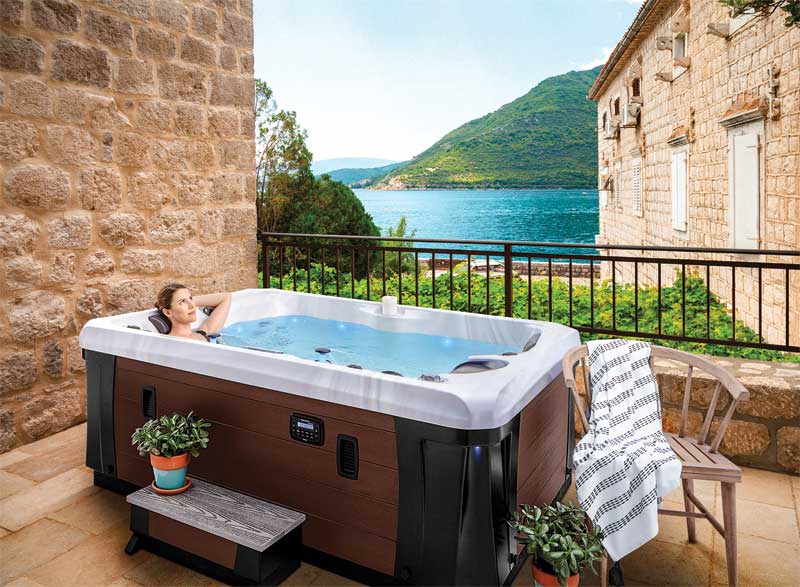 While online resellers are content to deliver a shrink-wrapped palette to the homeowner's driveway, brick-and-mortar retailers have the ability to deliver so much more. Namely, the insight and empathy needed to populate imaginations and deliver results that exceed expectations. Modular hot tub environments will help retailers sell hot tubs, but the secret to success is having them on display in the showroom. Like any other product a retailer sells, the items on display are typically the store's best-selling units. Better yet, modular hot tub environments tend to sell themselves.
Many retailers have customers who struggle to explain what they like, but when they see it they say, "I want it to look like that!" By staging fully rendered vignettes that showcase hot tubs in ideal settings—complete with modular environments—it paints a more appealing picture. In fact, experience shows it helps to garner additional hot tub sales. When customers have the opportunity to see and touch modules in person, it adds value to their buying experience, providing something a website and brochure cannot. Further, it makes it easier to weave them into the sales process.
Whether a retailer offers construction services or not, modular hot tub environments streamline the design and installation process. This saves time, allows for easier access and servicing later, and achieves a complete and polished esthetic. For outdoor great room concepts, it helps to integrate the hot tub area into the grander theme, blurring distinctions from one area to the next. Instead of a big box of water in the middle of the party, modular environments bring the hot tub into the mix and help to incorporate it into the backyard living space. The resulting mise-en-scène is greater than the sum of its parts.