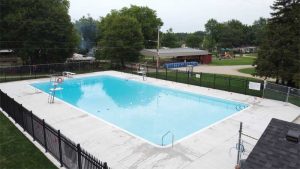 If one is looking for a place to beat the heat and get out into nature, Olympia Village RV Park & Campground is a great option. Nestled between farmland and forests on a quiet concession road in Waterdown, Ont., sits a hidden gem of southern Ontario camping. The park has all the staples of a great campground—playgrounds, ponds, a large, covered patio/entertainment pavilion, great people and atmosphere and, the focus of this article, the giant 13- x 25-m (42- x 82-ft) pool.
The park has been host to many film crews—from Disney to Netflix—who obtained permission to shoot projects there because of the old town charm the park offers. For example, there is still an old phone booth located right near the pool that provides a nostalgic setting for film producers. Above the surface, the park has the charm its residents and visitors love; however, below the surface the park has a completely re-built water treatment system, providing crystal clear safe drinking water throughout the park.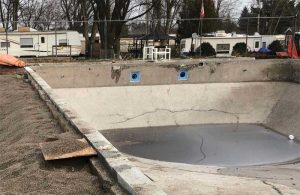 A groovy pool gets a rad reno
The pool was built in the '70s and underwent a renovation around 1989 when a new concrete deck was installed. Back in its early days, the pool had a 3 m (9.8 ft) diving board stand, a 1 m (3.3 ft) diving board stand (which is still in place), as well as a waterslide. Over the years the 3 m diving board and waterslide were removed due to end-of-life cycle and were not replaced. That said, better days were ahead for the park's large pool.
From rad to lit
After an extensive renovation, recently completed by Acapulco Pools of Kitchener, Ont., the concrete pool is now here to stay for another 50 years. In fall 2020, the owners of Olympia Village contracted Acapulco Pools to completely renovate the park's crown jewel—its massive pool. It had served the park well for the last half-century, but it was in desperate need of a complete overhaul.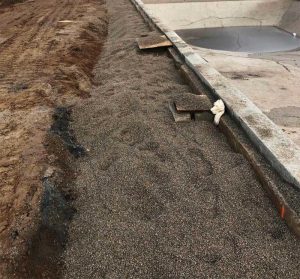 To achieve what the owners were seeking, the renovation was performed in two stages. Acapulco Pools was also hired in 2016 to replace two skimmers on the deep end wall as well as add two new wall drains. This involved installing new rigid polyvinyl chloride (PVC) schedule-40 piping from the new wall drains to the existing mechanical room. The owner knew a major overhaul was coming soon, but this was a great way to get some of the infrastructure in and break up the project.