2. Fun holidays that work with the industry
These days will take some research, but are meant to be more fun than anything. One can simply google 'fun holidays of 2020' to get a list off the internet—one just needs to be sure they choose reputable sources for downloading these because these posts are meant to go viral. TimeandDate.com is a great source and has an extensive list of whacky holidays.
These types of posts have become very popular on social media and include days like 'National Doughnut Day.' If one is in the retail sector and has a doughnut floatie to post, now is the time. Other days that relate to the pool and spa industry include Flip Flop Day, National Selfie Day (one can take a pool selfie and share the contest online), National Relaxation Day, Swim a Lap Day, among many others.
Note: Posts can be customized based on company events, too. That said, one must keep their company branding in mind. If the brand voice is serious and to the point, one should refrain from experimenting with such post types.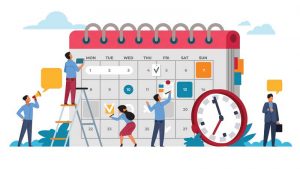 3. Industry events and trade shows
If a company is a regular exhibitor at industry events and trade shows, such as the Canadian Pool & Spa Expo, they should use such occasions to create a buzz online. These posts can showcase interesting activities at the event, share photos, etc.
4. Important times for the business
Content can be planned around important times of the year such as when homeowners open/close their pools. These posts can discuss hot
tub maintenance practices, servicing techniques, winter maintenance tips and tricks, new products and equipment for pool openings, etc. Services that a business offers for upkeep in the summer deserve to be promoted on social media, too. Assessing the company's busy and slow periods and when the business sells more products and services can help plan posts to promote these.
5. Promotional campaigns
Once a company is able to gauge which of their products/services sell at different times of the year, they can create advertising and marketing campaigns to promote these. For this, one should figure out the type of content they want to use—whether it is pictures, flyers, or short videos. The latter are still a social media must-have, so planning how-to videos or product reviews can be highly advantageous; however, they do take some planning (and sometimes a budget).
6. New products or accessories
Is the company introducing a new product or service? If so, this is the chance to create hype around the launch. Does the business need its followers' opinions on a potential idea? This can be the basis of a post. Sometimes pool manufacturers want the public's opinion on fibreglass colours for the next season, in which case they should plan to ask them. Businesses should not be afraid to leverage their social skills. After all, online audiences comprise consumers who will eventually purchase these products, so knowing their thoughts is important. Besides, this information is free, so companies should take advantage of this opportunity. Posts that carry safety information about accessories, tips and tricks for safe installation, and best practices have a positive impact as they show the business cares about its customers.