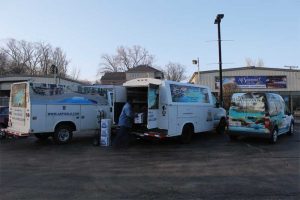 By Rachael Pritz
To make the most of a seasonal service business, owners do not want their staff stuck in traffic or to be sent on a call for which they are over or under-qualified.
Inefficient service routes inevitably cost service professionals' precious time, money, and missed opportunities to grow their business.
The goal of any service department is to figure out the best way to perform the most jobs in the least amount of time so as to generate the most revenue in every hour of the tech's day. This has become even more important with the unexpected surge in business the industry has experienced this past spring and summer. The most efficient, profitable service companies do this in two ways: effective planning and using the latest pool technology.
Planning tips for efficient service routes
Successful pool and spa service companies never forget the mantra 'prior planning prevents poor performance.' Following a few basic steps can help improve the efficiency of a service team and ultimately generate greater profits. The following are some tips on planning service routes.
Optimize pool tech abilities
Pairing up particular techs often leads to greater efficiencies. Sometimes two techs will get eight jobs done together, where splitting up that team could result in only six jobs completed.
Be sure to team up crews with complementary skills to optimize efficiency. As a rule of thumb, it is best to put the most senior techs on pools with water features, infinity pools etc. Look at historical data to help determine the effectiveness of teams, and ensure the right techs are scheduled for the right jobs—meaning their skills are up to the task and, if not, give them thorough training and a good mentor to walk them through
the job.
Minimize driving time
Rush hour is a big factor in most parts of the country, so it is important to find ways to avoid having valuable technicians sit in traffic. Many service companies find it helpful to give their service techs jobs that are near the office from 7 to 9 a.m., and then send each truck out to the furthest point from the office as the second stop after the morning rush hour. This way, they get to the job in 30 minutes rather than one to two hours. Then, the techs move back toward the office/local area to finish their service calls. This planning tip has the added benefit of bringing techs closer at the end of the day, which can be helpful as it allows techs to more easily swap with one another for emergency calls or other unexpected tasks.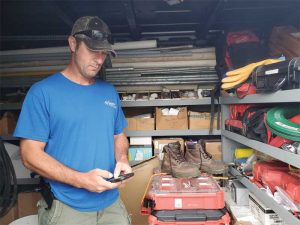 Group similar calls together for a particular truck
Be sure each truck is stocked with all the items needed for the same type of service call (pool opening, repair, etc.) This might require the service manager to provide checklists to technicians to stock their trucks before leaving for the day. Techs that are provided with the right materials and tools to complete their scheduled jobs are the most efficient.
Software features help service technicians optimize their service routes
Service professionals have everything to gain by using mobile technology to improve business operations. Look to incorporate business software including powerful mobile components that make service techs incredibly efficient in the field. These include:
Instant access
Forget the hassle of going back to the office to look up important customer information such as spa cover or liner dimensions or equipment warranty dates. Be sure any app a tech use syncs with office software, so in-field staff can instantly access all customer information and equipment profiles.