Challenging times ahead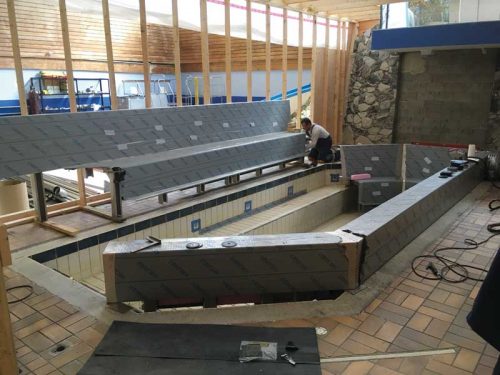 The biggest challenge for the team was meeting the deadline for completing the installation. The client wanted the project to be completed by the start of fall 2018. Keeping these dates in mind, the design of the whirlpool, its approval, and manufacturing process was completed in two months, the transportation took four weeks, and another four weeks were reserved for the installation itself.
None of this would have been possible without a Canadian-European Union free trade agreement, which allows the European manufacturer to carry out the installation of stainless steel pools in Canada and to recognize and accept European public health and safety certificates. However, the pool equipment must comply with Canadian pool standards.
The stainless steel parts of the whirlpool were manufactured in Czech Republic and Austria and transported in a 12.2-m (40-ft) container from Hamburg, Germany, to Montreal, Que. The parts were then loaded in a train to be transported to Vancouver, B.C., and were finally delivered by a truck to Prince Rupert.
Once the truck arrived at the aquatic facility, the container was dropped by a crane and the pallets with pool parts were unloaded by a forklift. After unwrapping the protective, corrosion-resistant foil, the parts were safely transported on trolleys to the assigned area inside the building.
Even though the whirlpool was installed on top of the existing structure, the general contractor had to complete two building modifications before the installation. First, he cut out paving, measuring 102 mm (4 in.), around the perimeter of the pool so its walls could be anchored. Second, he demolished the space between the back of the pool and the technology room to create space for piping from the pool hydraulics.
During these construction adjustments, he found sewer pipes and a concrete wall under the original floor that was not in the architectural drawing. These obstacles were tackled during the welding process and were bypassed using 90-degree elbow pipe fittings.