The pipelines from the skimmer, inlet, and drain were connected in the pool technology room, whereas the water and airway piping were connected before the wall of the mechanical room. The control valves were also fitted and closed in a stainless steel cabinet. This would allow the operator direct access to control the attractions in the pool area.
The head restraints were installed and perimeter walls were anchored to the floor using a stainless steel L-profile, which was then coated with epoxy glue and tiled.
Once the pool parts were welded, the welds were pickled with a paste to protect the joints from corrosion, and then ironed so they could be cleaned and the shade of stainless steel was obtained. This was followed by a pool and pipe test.
Finally, the most important task was to clean the whirlpool and train staff in its maintenance. There is a significant difference in maintaining stainless steel compared to concrete. This is because stainless steel pools are not required to be painted regularly with any protective coating. Also, it is not necessary to repair cracks, tiles, or other parts, which pool operators are accustomed to.
Stainless steel pools should be drained once a year, washed with cleaning detergent, and flushed with tap water. In this case, the cleaning process took an hour.
Maintenance requirements are generally different when comparing skimmers to overflow pools. While the former should be monitored regularly to check for evaporated chlorine on exposed parts of the pool (so-called chlorine 'maps' simply need to be wiped with a wet towel), this is not necessary in the case of pools with overflow gutters because all its parts are constantly immersed in water. Due to this system, the maintenance costs and times are significantly reduced.
A new spin
The whirlpool was installed in three weeks—a week ahead of schedule—and with minimal challenges. All the team members were able to work together successfully and complete the project in a month's time.
In the author's opinion, the process of renovating a concrete pool is an exciting solution for any type of project, whether it is a small residential pool, a whirlpool, or a large waterpark designed for the public sector. An interesting example is the reconstruction of the Riviera outdoor swimming facility in Brno, Czech Republic, where the original concrete waterpark was completely rebuilt into stainless steel in just 10 months. With a total water area of 6840 m² (73,625 sf),
the Riviera Aquatic Centre is the world's largest outdoor stainless steel aquatic facility.
At present, many pool operators believe stainless steel is a material of the future, which has led to a large number of public pool developments incorporating this technology.
In addition to a clean, luxurious design and a wide choice of water attractions, stainless steel offers advantages other materials cannot provide. Specifically, the material's lifespan (the oldest stainless steel pool by Berndorf Bäderbau was built in 1966, which is still in operation), maintenance and construction costs, and hygiene make it a suitable choice for many pool professionals.
And as far as the technology is concerned, due to its varied advantages, one can be sure they will meet it time and again.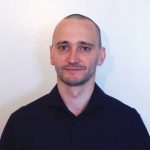 Michael Rusz is the owner of Stainless Steel Pool & Spa, which is the exclusive partner of Berndorf Bäderbau in Canada. He has been in the stainless steel pool industry since 2016, and his field of activity is in public, commercial, and residential constructions and renovations. He can be reached via e-mail at info@stainless-pools.com.