By Mike Fowler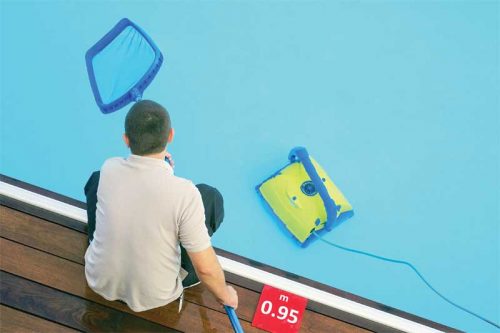 Owning a pool is all about enjoyment—relaxing, swimming, entertaining, and vacationing in the backyard. In this case, pool professionals need to do everything possible to make owning one hassle-free. To this end, the products and services the industry offers are designed to ensure maximum enjoyment and minimal work. As a result, automatic cleaners are the ultimate tool to ensure a clean, beautiful pool for swimming or just to look at while entertaining. Therefore, selling these products is one way to ensure consumers maintain a positive relationship with their pools.
The easy option
Pool professionals offer everything from manual cleaning services and pressure-side pool cleaners to handheld and robotic cleaners to help make pool ownership easier. However, the evolution of the robotic cleaner has made it the ultimate pool accessory.
"We like to sell robotic cleaners because we feel it gives the homeowner the most enjoyment and least amount of work for maintaining their pool," says Kathi Belcourt of Aquatech Pool & Bath in Winnipeg who says the pressure-side cleaner was the standard for many years.
"These (along with a booster pump) were the only pool cleaners we sold for years," says Dan Lenz of All Seasons Pools in Orland Park, Ill. "Now we primarily sell robotic cleaners and carry pressure-side cleaners for replacement only."
Prior to robotics it was really difficult to sell a retrofit pressure-side cleaner for pools because they require dedicated plumbing and a booster pump that required electricity to operate. As a result, it would be a $3000 to $5000 investment for the homeowner to retrofit their pool with an automatic cleaner. Robotic cleaners have changed all of this as these products can be used on any pool. In fact, industry professionals say the evolution in robotic cleaners is driving the market.
"Robotics has become more of a standard for consumers who also have robotic vacuum cleaners in their homes," says Lenz.
Belcourt and Lenz agree that especially in northern markets where the swimming season is short, consumers do not want to worry about having to clean their pool. Once a consumer sees a robotic cleaner in action, it is hard for them not to want one.
Display, display, display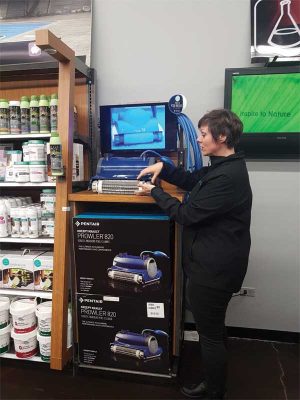 Displays make all the difference when selling pool cleaners—especially automatic/robotic models. Retailers that have a display pool at their store should have a robotic cleaner continuously moving throughout the pool to demonstrate how it operates. This allows customers to see how well they work and how easy they are to use. This can make all the difference when selling these products.
"The demo pool at our store is equipped with a robotic cleaner so people can not only touch and feel the product, but can also see how easy it is for them to lift and pull out the filter to clean it," says Belcourt. "In fact, compared to a vacuum one would use inside their home, robotic cleaners are easier to open and clean out."
She suggests retailers keep these products available on their show floor as a cash-n-carry item as some customers get really excited about robotic cleaners as they learn more about them. By keeping them readily available, customers can seize this moment of excitement and get them into their trunk quickly.
Belcourt's store has a second robotic cleaner display area near the water-testing station with a video display, showing exactly how the cleaner works. This is a strategic sales display as most customers come into the store to have their water tested because they think they are having issues with their chemistry. However, in many cases, the problems they are experiencing are often a result of a filtration or circulation issue. It can also be a result of the homeowner's pool cleaning routine.