CONTINUING EDUCATION
Read this article, "Treating spas like pools could get service techs in hot water: Best practices to ensure proper hot tub maintenance."
Earn 25 credits towards the Pool & Hot Tub Council of Canada's ( PHTCC's) Trade Certification Program.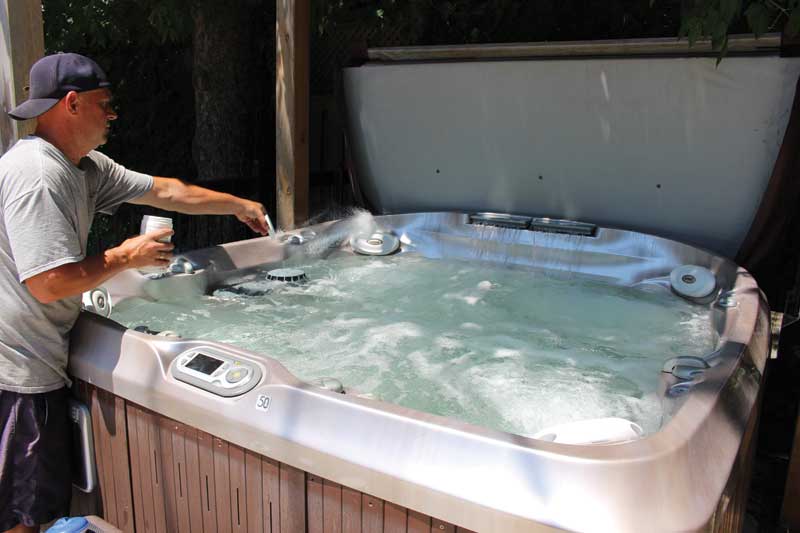 Many are familiar with the (not so glamorous) expression that hot tubs are communal baths. When a bather gets into a hot tub, waste from their body stays behind in the water. This includes dead skin cells, sweat, dirt, oil, lotions, perfumes, colognes, makeup, and more. While a lot of what is left behind is usually harmless, this type of contamination is the primary concern when it comes to maintaining the overall quality of the water.
To ensure the client's hot tub water stays clean and safe, service techs must take adequate measures to keep spas clean, both inside and out. Further, to keep the water in bathing condition, spa owners should be educated on proper maintenance between service calls.
Hot tubs are not 'mini pools'
Service techs must explain to hot tub owners that their spas are not 'mini pools;' therefore, they need to be treated differently. There are many differences between pools and spas, including:
The maximum temperature for most pools is 26 C (80 F), while spa/hot tub water should be maintained between 37 and 40 C (100 and 104 F);
Hot tubs have a higher evaporation rate. This leads to more scale and increased calcium levels, with air jets and blowers causing a quicker chemical reduction;
Water balance is an important factor, too. A smaller body of water means a greater effect on pH, total alkalinity, calcium hardness, and total dissolved solids (TDS) from added chemicals; and
The bather load ratio of four people in a hot tub equals 200 people in a pool.
One must remember the same rules for operating pools do not apply to hot tubs. Think about how small a hot tub is compared to an Olympic-sized pool. Bacterial infections and viruses, even pathogens and fecal matter, have more room to float in pool water. That said, if the same amount of germs enter a hot tub, the potential exposure increases because the volume is much smaller and, therefore, the risk of infection is higher.
"It's important to remember bather-to-water ratios in hot tubs and pools are vastly different," says Kathi Belcourt of Aqua-Tech Pools, Spas, and Bath in Winnipeg. "Remember four people in a hot tub equals 200 people in a pool. That is a lot more contamination from bathers in every hot tub. It's not unusual to have four bathers in a residential hot tub, while it's much more unlikely to have 200 people in a pool."