Pro tips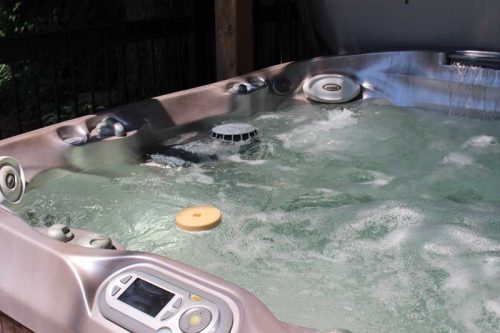 Pool pros must follow a few tips to ensure the overall wellness of their clients' hot tubs.
Service tip 1
The CDC recommends checking and adjusting hot tub chemicals every hour when bather load is high to make sure chlorine is at 2 to 4 parts per million (ppm) and the pH level is 7.2 to 7.8. In the case of bromine, the sanitizer level should be between 4 and 6 ppm.
Service tip 2
Service techs should be sure to include a note on their maintenance checklist to scrub off any slimy bacteria (biofilm) that appears on hot tub walls, so it does not continue to circulate in the water.
Service tip 3
One should also make a note of the installation date and any hardware changes or major repairs on the customer record. Many newer hot tubs come from the factory or have options to add secondary disinfection devices, which can help improve the water quality and lessen the amount of maintenance work. That said, these devices require regular upkeep that is often overlooked, such as replacing solarized ultraviolet (UV) bulbs or replacing an ozonator as they have a limited lifespan.
Notes:
1 See "Fast Facts: Information on Healthy Swimming and Recreational Water" published online by the Centers for Disease Control and Prevention (CDC) on Sep. 15, 2016. For more information, visit www.cdc.gov/healthywater/swimming/fast-facts.html. (Accessed on Nov. 29, 2019)
Chris Marcano is the director of training and education for BioLab, a manufacturer of pool and hot tub chemicals in Lawrenceville, Ga. Marcano has more than 19 years of experience in the industry and is a Certified Pool/Spa Operator (CPO) instructor, and a member of the education committee for the National Plasterers Council (NPC). He is also active on the Pool & Hot Tub Alliance (PHTA's) board of regents and is a local PHTA chapter president. He can be reached via email at chris.marcano@biolabinc.com.