Fibreglass resurfacing
Fibreglass is a composition of glass fibres and a thermoset resin. It is hardened/cured by a peroxide catalyst (free radical initiated chain growth polymerization) into a homogenous mass of various shapes and sizes.
This material is best known in the pool industry in the form of the factory-made fibreglass swimming pool, which was first fabricated in the 1950s. The application of fibre-reinforced polymer (FRP) lining systems is relatively new to the pool industry. One of the main reasons for this is the pool sector is relatively a cement-based industry.
The composites industry is also little known to the engineering fraternity. In fact, the composites industry is reaching out to materials engineers and specifiers to educate them on the benefits of the use of composite materials, e.g., corrosion resistance, long service life, and low life-cycle cost.
Fibreglass usage for fieldwork falls under the jurisdiction of coatings technical societies, not pool industry standards. Coatings societies create consensus standards for coating applications. Carefully adhering to specifications ensures the materials are applied with best practices and procedures in mind. They also implement a quality assurance process.
Well-known societies that govern the coatings industry include NACE International, a  professional organization for the corrosion control industry, The Society for Protective Coatings (SSPC), a professional association for the industrial protective and marine coatings industry, and the American Composites Manufacturers Association (ACMA), a trade association serving the composites industry, offering both training and educational programs.
Pool Paints
Another common refinishing method is paints/coatings specifically formulated for use in swimming pools. The most widely used coating material is from the epoxy family. These paints are used on concrete in new construction and refinishing existing painted pools, as well as on plaster pools. Pool paints are the least costly of all refinishing options.
There are three grades of epoxies, i.e., simple pool paints, two-part solvent-borne epoxies with high solids, and industrial-grade, 100-per cent solids and zero volatile organic compounds (VOCs), high-performance spray-applied epoxies. The latter is seldom used in the pool industry as it requires special spray equipment, the material is expensive, and applicators require a high skill level.
Pool paints do not have the longevity of industrial-grade protective coatings. The grade of pool paint used will ultimately determine its service life. Pool paints are also non-structural and, therefore, not a good choice for cracked and/or leaking pools.
When applying pool paints, it is important to ensure there is a good anchor profile for a proper bond as well as verifying the correct dry-film thickness and coverage is used. Cutting corners on the number of coats will also shorten the service life. Pool paints can also be used to refinish fibreglass pools. Sand the surface with 80-grit sandpaper and apply two coats. The first coat acts as a primer/tie coat. One downside to epoxy pool paints is their tendency to chalk, i.e. a fine powder-like substance forms on the film surface. This is not a water chemistry induced phenomenon, but the chemical nature of an epoxy.
There are two methods used to resurface a pool using fibreglass coatings: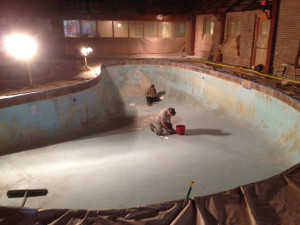 Hand-applied: The fibreglass mat is applied to the surface and the resin is rolled on. This is the most common method, but produces an inferior outcome. Most notably are bonding problems and the incidence of glass fibre exposure, i.e. fibrebloom, which occurs after exposure to pool water and the lining begins to degrade, causing fibres to become fuzzy or 'bloom.' With this method, no high-build topcoat is applied. Deficient training of applicators and the use of inappropriate materials are the major reasons for poor performance.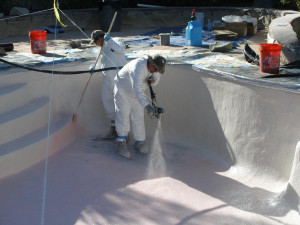 Spray-applied: This technique is recommended in the consensus standards. It ensures excellent bonding to steel and concrete and eliminates all of the problems found in the hand-applied method. Bonding is achieved by roughening/fracturing the surface to create an anchor profile for bond. With this method, the material is never applied over smooth plaster. Special resin and catalyst systems are used to further promote bonding. A niche is cut at all termination points to stabilize the lining and waterproof those points. Special resin heaters are also employed to maintain the proper resin temperature during changes in ambient temperature to facilitate proper resin processing. There are many other technical reasons for using the spray-applied method. The most commonly used resins are corrosion-grade polyester (UP) and vinyl ester (VE). (See Figure 1.)
A key factor that affects service life is resin selection
When immersed, all fibreglass will permit low quantities of water to pass through in vapour form. An important property of any resin, particularly for swimming pool resurfacing/construction, is its ability to withstand degradation from water ingress. Both polyester and vinyl ester resins are prone to water degradation due to the presence of hydrolysable ester groups in their molecular structures. To prevent the onset of osmosis from the start, it is necessary to use a resin which has a low transmission rate, and a high resistance to attack by water. A polymer chain having an epoxy backbone is substantially better than many resin systems at resisting the effects of water. Such systems have been shown to confer excellent chemical and water resistance properties, due to the low vapour transmission rate.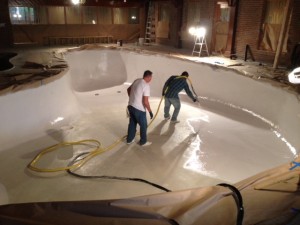 The vinyl ester molecule is different from the basic polyester molecule in the number and location of reactive sites. The reactive site configuration makes VE less susceptible to degradation by hydrolysis (the separation of chemical bonds by the addition of water). Therefore, VE exhibits better water resistance than its basic polyester counterparts. The incorporation of VE into the process ensures an extended service life by preventing blistering, chipping, fibrebloom, and embrittlement. This avoids periodic maintenance, with an overall contribution to corrosion resistance and esthetic appeal. The prefabricated pool industry incorporates VE into its fabrication schedule, due to its outstanding long-term performance. On the other hand, however, VE is more costly than polyesters.
Corrosion-grade isophthalic (ISO) polyesters and hybrid, 100 per cent ISO/Neopentylglycol (NPG) resins are also used when material costs are a consideration. ISO/NPG's impart excellent blister resistance, UV stability and superior weathering characteristics. This material is used as a high-build topcoat and prevents fibrebloom.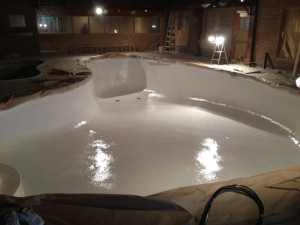 Fibreglass comes in a variety of colours. It is a popular choice for pools that are cracked and leaking as the glass fibre reinforcement makes it a structural material. It is also ideal for hot water spas as it will not degrade like cement-based products.
Fibreglass linings can also be used for new pool construction. A concrete forming system is used for the walls and floor, and the FRP lining is applied to the interior of the pool. This is a good alternative for new pool owners who might want a pool shape and size not offered in a prefabricated fibreglass pool line. FRP is a versatile renovation material, and can be used to refinish fibreglass pools, convert vinyl pools to fibreglass, in addition to having many uses in water parks and public aquatic facilities.