Freeze/thaw considerations
Fibreglass has performed well in areas with freeze/thaw conditions. However, it is not recommended for pools that are drained in the winter. Polyureas are better suited for these applications.
Warranty
Due to the nature of this material, a long service life can be anticipated. Some applications are still performing 25 years after installation. However, with new resin technologies, a longer service life can be expected. A typical performance warranty is offered that address the material performance issues of the fibreglass finish.
Benefits of use
FRP provides a long-lasting method to refinishing pools with surface problems and eliminates the need for acid washing and repeated treatments with other products. It is not subject to degradation like conventional/entrenched materials. Its usage will eliminate cracks, leaks, algae and staining, rough surfaces, discolouration, high chemical usage, and rebar stains, all while maintaining the pool's esthetics long-term.
Surface preparation is important
Experts will agree, surface preparation is the most important part of a swimming pool coating system. The quality of the surface preparation will affect the performance of the coating more than any other variable. Given the proper coating system has been selected, if the surface preparation is poor, the coating's performance will often be compromised, even if the application is near perfect. If the surface is prepared properly, then the applied coating will perform well. Applying sound preparation techniques will go a long way in ensuring a successful application; therefore, it is important to make sure the surface preparation complies with specification requirements to avoid costly rework and catastrophic failure.
Addressing smooth concrete pools
Fibreglass linings require a mechanical bond in concrete pools as the two materials are dissimilar. Bond failure has historically been an issue when the concrete surface is smooth as the coating has a difficult time adhering tenaciously. When concrete is fractured and/or roughened, it creates peaks and valleys. In these cases, the fibreglass coating anchors itself to the valleys of the profile, while the peaks act like teeth. This is why surface profiles created by blasting/scarification are sometimes called an anchor pattern or mechanical tooth.
Coating steel pools
Surface contamination of steel that has been painted interferes with both mechanical and chemical adhesion of fibreglass coatings, which will likely result in premature failure. Therefore, complete and continuous contact with the steel is required. A well-adhered coating creates a sound barrier that prevents the steel from corroding by minimizing moisture transmission.
Implementing a quality assurance process
When applying fibreglass coatings it is imperative the application practices and procedures in the consensus standards are carefully adhered to. These specifications address the materials, application, and surface preparation recommendations.
Additional resources
For more information on composites for corrosion control, visit: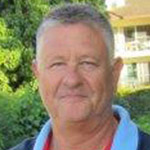 Peter Gibson is the technical director for GRC Fiberglass Coatings in Oakland, Calif. He has been involved with fibreglass reinforced plastics (FRP) lining fieldwork for more than 30 years. He compiled the consensus standards for this process with the sources of various technical affiliations. Gibson is also a consultant and specifications writer, and trains applicators in the process of FRP lining systems in Canada and the United States. He can be reached via e-mail at resinmaster@gmail.com.