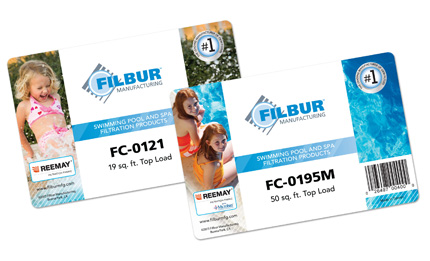 Filbur Manufacturing, a maker of pool and spa filter products in Buena Park, Calif., has upgraded its product packaging to reflect an updated look, while also place greater emphasis on its use of Reemay filtration fabric.As part of the revamp, the company has replaced its commercial-grade packaging with lifestyle images (e.g. children splashing in the pool and sitting on the pool deck) to reflect the fun and enjoyment that comes along with clean, clear swimming pool water."We wanted to better connect with the consumer by highlighting the benefits of a clean swimming pool—namely fun and relaxation," said the company's marketing manager, Shelly Johnson of the change. "A good filtration system coupled with quality filter cartridges means more time to enjoy the pool and less time cleaning it.
"Filbur cartridges use Reemay filtration media and we wanted to make that a prevalent part of the new look."
Products featuring the new labelling are expected to be available on dealer shelves by March 1.