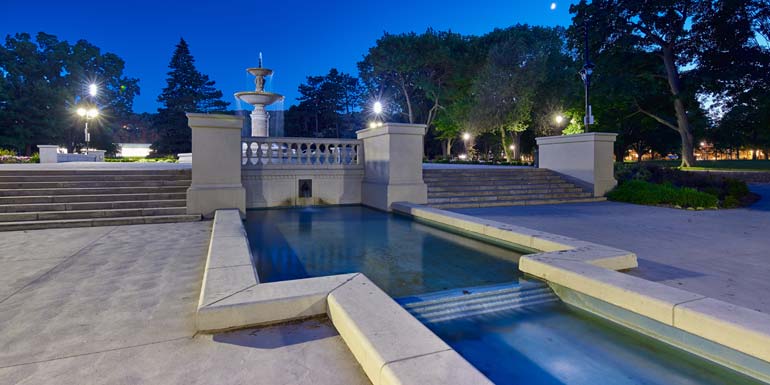 Hamilton's Gage Park will be recognized with the Canadian Society of Landscape Architect's (CSLA's) first legacy project award at its annual conference in Winnipeg being held June 23-25.
Gage Park, built in a style reflective of the City Beautiful Movement—an early urban planning effort which was active between 1893 and 1930 to promote the planned creation of civic beauty through architectural harmony, unified design, and visual variety—is one of Hamilton's most iconic historical and cultural landscapes. Not only has the park retained what were forward-thinking concepts when it was developed in the '20s, but it has also continued to evolve to serve the needs of the community.
The functional and spiritual role of the park to the community was recognized by the city through the adoption of a revitalization master plan in 2010. As a result, significant money and resources have been allotted to the large-scale renewal of the park. Parts of the master plan have been implemented while others are to be phased in over time. The new park vision will provide greater protection of cultural heritage elements, which in turn will strengthen the park as a cultural landscape and showcase it as Hamilton's premier regional park.
The CSLA Legacy Project Award recognizes distinguished landscape architecture projects which were forward-thinking for their time, contribute significantly to their communities, showed leadership and innovation, and are still relevant examples of excellence in the profession of landscape architecture. The award honours projects which have made a lasting impact on Canada's landscape. It will be presented during the CSLA Congress at the Fort Gary Hotel and Congress Centre in Winnipeg on June 25.
"To be the inaugural recipient of the CSLA Legacy Project Award is a great honour and nod to the iconic landmark in Hamilton," said the city's Mayor Fred Eisenberger. "Gage Park is a destination for cultural events that highlight the diversity in our community. The restoration of the fountains along with numerous upgrades preserves the legacy of the park and its original designers."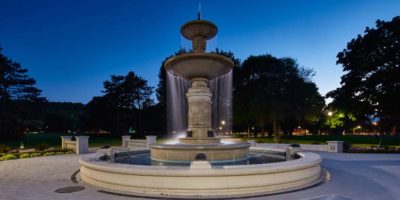 Fountain Restoration (restoration of historic masonry including grand staircase, vertical fountain feature, basin, and watercourse)
Project manager: Therese Charbonneau, senior conservator
Architect: Stevens Burgess Architects Ltd., Toronto
General contractor:  D.J. McRae Contracting Ltd., Toronto
Mechanical: Aqua Plans, Kitchener, Ont.
Plumbing: Binbrook Plumbing & Heating, Hamilton
Fountain Terraces (upper and lower plazas, lighting, and landscaping features)
Project manager: Lawrence Stasiuk, landscape architect
Landscape architect: Seferian Design Group, Burlington, Ont.
Civil engineering: AMEC Environmental & Infrastructure, Burlington, Ont.
Electrical engineering: Cronnox Inc., Oakville, Ont.
Irrigation: Creative Irrigation Solutions Inc., London, Ont.
General contractor: CSL Group, Hamilton (Ancaster, Ont.)