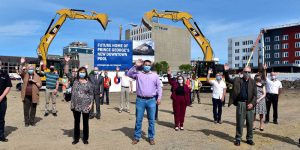 The first phase of Prince George's new downtown pool has been completed.
According to princegeorgematters.com, the concrete foundation of the facility was completed in mid-December with approximately 1100 m3 (38,846 cf) at the $44.3 million site.
In a city news release, officials said the next phase would see work on the "largest and tallest" section of the pool, including construction of the pool's mechanical rooms, change rooms, and the pool lobby.
City officials anticipate this next phase of the project will continue into the spring of 2021. Following this stage, construction of the building envelope will begin.