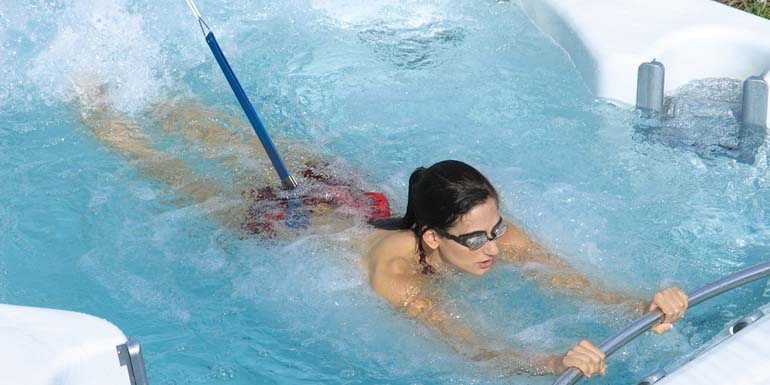 By Rob Santos and Pedro Vargas
Fitness spas, also known as swim spas, are quickly gaining momentum in the marketplace, as they offer a range of health and lifestyle benefits and their affordability often makes them a good fit for homeowners who want both a pool for lap swimming and a hot tub for hydrotherapy.
These spas are designed with gym-like features, such as treadmill swim zones, which use jet propulsion systems for resistance, as well as peripheral fitness equipment options, making them well suited to athletes in training, physical therapy patients, fitness enthusiasts and families.
Size and portability advantages
When compared to a typical swimming or lap pool, the main benefits of a fitness spa are its size and portability, as this alone gives prospective buyers more flexibility over installation, and ultimately, the entire backyard design plan.
A building permit is not required for most fitness spa installations; however, the local building code department should be contacted to ensure whether a building permit is necessary and for information on applicable bylaws (e.g. distance from property lines, buildings, fencing requirements, etc.).
In contrast, most swimming or lap pools are installed directly into the ground, making building permits necessary. Depending on local bylaws, homeowners may also be required to put several safety precautions in place. For example, they may need to install self-closing, self-latching gates, which lead into the backyard, or four-sided fencing surrounding the entire pool. Each additional requirement raises installation costs and has an affect on the outdoor landscape.
The vast majority of fitness spa installations simply require the unit be placed on a solid, flat foundation, such as concrete or other decking material, that has a minimum rating of 68 kg per square metre (150 lb per square foot). This simplifies fitness spa installation; most can be easily installed in any backyard on delivery day.
Design and options
The comfort and hydrotherapy features found in today's fitness spas are available in many sizes with various options, colours, textures and design features. For example, key features can include incorporated therapy seats, strategically placed hydrotherapy jets and self-contained operational equipment.
For convenience, important information such as water temperature, filtration program settings, pump controls and lighting systems are displayed on the spa side control panel. Most importantly, from a homeowner's standpoint, the majority of fitness spas feature self-contained operating systems, which eliminate the need for a dedicated backyard equipment area. This feature also protects the equipment's electrical components from the elements and extends the life expectancy of the unit's operating systems, pumps, heaters and lighting.
Modern fitness spas also offer a host of standard and optional amenities, which can include cascading waterfalls, water fountains, multi-coloured light emitting diode (LED) lighting packages and built-in, iPod-ready, marine-grade stereo systems with surround-sound speakers.