By Jordan Goodman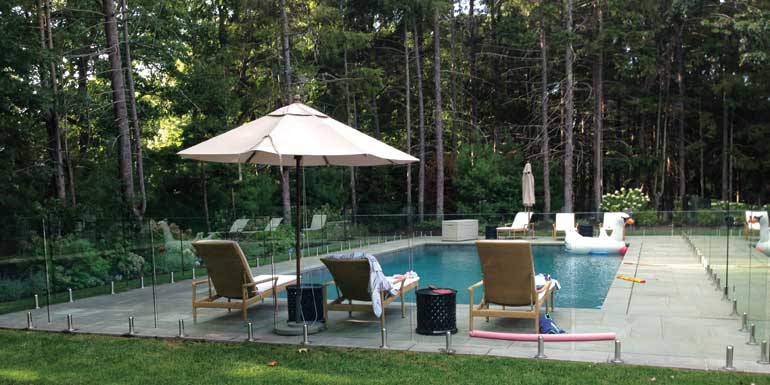 The use of frameless glass fencing is a growing trend in residential pool, spa/hot tub, and landscape design, as it is a sleek, elegant, and affordable way to increase safety in the backyard. In terms of safety, fencing is one of a number of security measures that can be installed around the pool perimeter to prevent unwanted access. In fact, several provinces, states, and municipalities across North America have, or are, introducing new regulations for pool safety aimed at preventing accidents, particularly involving small children. To this end, there is a variety of fencing products and materials available to builders/installers to not only ensure the pool installation meets code, but is also safe.
Frameless glass fencing systems not only prevent access to the pool, but also provide unobstructed views into and out of the pool, spa, and/or patio area. All activities in and around the pool are visible, allowing parents to observe their children at all times. Gates also automatically close and latch, preventing toddlers from entering the pool area unsupervised. Further, glass panels are climb-resistant and feature polished faces and rounded edges.
Pools and patios are ideal places for summer fun, family gatherings, parties, and relaxation. For these reasons, many homeowners do not want to segregate the pool area from other parts of their landscaped backyard. Therefore, in addition to design appeal, many builders are turning to frameless glass fencing systems to not only provide peace of mind by restricting the pool area, but also keeping the backyard oasis visible to the homeowner and their guests.
Frameless glass fencing and pool codes
Fences installed around pools must meet local building codes. The purpose of these regulations is to prevent unsupervised access to the pool area. The rules typically apply to inground and above-ground pools, as well as spas/hot tubs.
Pool codes in most areas require the height of the fence to be 1.2 to 1.5 m (4 to 5 ft) above the finished ground level. The gap between the finished ground and the bottom of the glass (measured on the side facing away from the pool) must fall within code guidelines as well.
Pool fencing specifics vary by municipality, or provincially, in cases such as Quebec, where four-sided perimeter fencing is required, but the U.S. Consumer Product Safety Commission (CPSC) recommends a maximum of 101.6 mm (4 in.) between the glass and a solid base such as wood, tile, or concrete. For mutable surfaces such as grass or gravel, the maximum recommended distance is 50.8 mm (2 in.). The agency also specifies no more than 101.6 mm (4 in.) between vertical glass panels. For above-ground pools, the fence must be installed either at ground level or mounted to the top of the pool structure, with no more than a 101.6-mm (4-in.) gap. The purpose of these regulations is to ensure no child can crawl under or through the fence.
All glass gates must be self-closing and self-latching, with locks installed at a specified height, out of reach of small children. These building codes apply to both public and residential pools. Before specifying frameless glass fencing for a pool and/or spa/hot tub project, check the applicable building code regulations first.