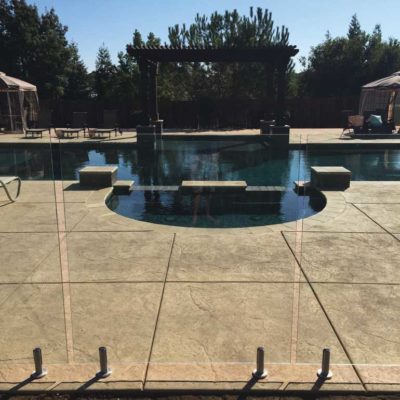 Simple, elegant construction
The most common installation for frameless glass fencing uses 12.7-mm (0.5-in.) thick tempered glass, secured by stainless steel clamps embedded into the patio's concrete, tile, wood, etc. This simplicity, combined with its clean lines and esthetic, sets it apart from other fencing materials, such as wood, iron, and aluminum.
Tempered glass is far stronger than standard glass and does not corrode like iron, aluminum, or chain-link fences. Some clients may ask: "Isn't glass fragile and breakable?" "How is it 'safe'"?
The process used to create tempered glass makes it difficult to break. It is a type of safety glass that is manufactured using controlled thermal or chemical treatments to increase its strength in comparison to standard glass. Tempering puts the outer and inner structures into tension.
Vehicle windshields, for example, are made of tempered glass. The average total thickness of a windshield—two sheets of tempered glass sandwiching a plastic film—is 6.35 mm (0.25 in.). The thickness of the panels used in frameless glass fencing is 12.7 mm (0.5 in.).
If a tempered glass fence panel breaks, the same properties that makes it so strong cause it to shatter into tiny pieces, instead of dangerous shards.
Glass versus other materials
Wood fencing, while traditionally popular and inexpensive from a materials standpoint, is susceptible to rot and damage from bugs or other animals/pests, and requires periodic painting or treatment to extend its life.
Metal fencing, such as aluminum, steel, and wrought-iron, is more costly on the front-end and, for some types, versatility is limited. Chain-link fencing is versatile, but utilitarian in appearance and, as a result, lacks in esthetic beauty. Steel fencing is extremely heavy and can be difficult to install. Further, metal fences (except for aluminum) are also susceptible to corrosion, which is a concern in high-moisture areas, such as pool and/or spa/hot tub environments where sanitizers (e.g. chlorine, bromine) are used. As described earlier, frameless glass fencing is constructed of tempered glass and stainless steel clamps which resist corrosion. As a result, these fencing systems last longer than other materials in these environments.
Further, most glass panels and stainless steel clamps do not require any routine maintenance. Because the panels are fitted above the ground, the buildup of dust and debris around the bottom of the fence is eliminated. No paints or sealants are necessary, only the occasional wipe down to restore clarity.