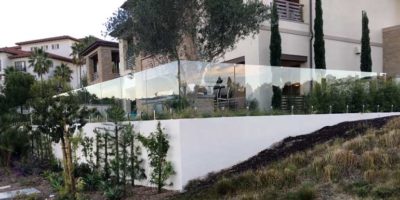 Not just for pools
The same qualities that make frameless glass fencing ideal for pool areas also make it suitable for patios, decks, and terraces. The reasons for this are twofold: the stainless steel supports are low to the ground and the seams between each glass panel are almost invisible. As glass fencing systems co-ordinate with almost any landscape plan, different areas of a project can be fenced off without sacrificing design unification.
Another benefit of frameless glass fencing is its ability to add curb appeal to any property—residential or commercial. Therefore, clients can consider it an investment, rather than a simple home improvement.
Homeowners looking to incorporate a frameless glass fencing system into their backyard design, but are curious about how difficult it is to install, need not worry. Most licensed contractors can install these fences as specialized tools are not required. Depending on the surface where the stainless steel clamps are to be installed, it can be done in two ways: base-mounted or core-drilled.
Base-mounted installation
For base-mounted installations, clamps are secured to the surface of an existing structure (e.g. wood, concrete, tile, etc.), using lag screws/bolts. The clamps typically have a square or round design and come in satin or polished finishes.
Core-drilled installation
There are two options when using the core-drilled installation method. Drilling holes into the existing surface (e.g. concrete), then securing the clamps in place with grout, or embedding the clamps into fresh concrete.
Glass gates
Whether base-mounted or core-drilled, gates can be mounted onto an adjacent glass panel, wall, or post, opening away from the pool area. The gates are designed to automatically close and latch. Some building codes require the gate latch to be placed at a minimum distance from the ground to keep it out of reach of small children; however, this distance varies depending on the local building codes.
Safety and sophistication combined
Frameless glass fencing is a growing outdoor architectural design trend which will continue to be used into the future as an increasing number of pool owners recognize its unique safety characteristics and distinctly pleasing esthetics. Elegant and secure, glass fencing systems offer protection with minimal intrusion, and its simple design sets it apart from other fencing options.
BASIC GUIDELINES FOR INSTALLING FRAMELESS GLASS FENCING
This article is intended to provide an overview of the growing trend of using frameless glass pool fencing in backyard pool and landscape projects. As this design trend becomes more popular, and more builders start to install these fencing systems, it is important for installers to pay close attention to the manufacturer's installation guidelines, in addition to the following:
• Handle glass with care and attention, ensuring there is sufficient room to manoeuver around various obstacles in the backyard;
• Store and lift glass panels in upright positon, and in dry conditions;
• Wear protective clothing, such as gloves, safety glasses, and steel-toe boots;
• Make sure no underground cabling or pipes will be affected (especially when using the core-drilled installation method);
• Use a level and timber wedges to make sure clamps are perfectly vertical;
• Make sure the clamps are positioned in a straight line;
• Glass fence panels should not touch the metal clamps, only the rubber spacers;
• If a gate is to be installed between two glass fence panels, be sure to leave enough space between them to fit the gate, with space outside both edges of the glass gate (typically 9.5 mm [0.375 in.]) to allow it to swing;
• Adjust the spring tension of the gate hinges so it closes automatically, even if only slightly open; and
• The space under a gate should not exceed 101.6 mm (4 in.) to ensure clearance for the glass, while at the same time making sure small children or pets cannot get stuck beneath it.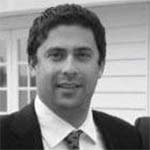 Jordan Goodman is the founder and CEO of Aquaview Architectural, a manufacturer and distributor of glass pool fences and railing systems in Beverly Hills, Calif. Goodman is a member of the Master Pools Guild and works with top builders, designers, architects, and contractors across Canada, the United States, and Europe. He can be reached via e-mail at jordan@aquaviewfencing.com.