Advancing to acrylic
After the advent of fibreglass hot tubs, the next major innovation the hot tub industry would see came in the early '70s with vacuum-formed acrylic. This manufacturing process, which is still used today, uses cast or extruded acrylic sheet that is heated to a forming temperature and stretched onto (or into) a surface mould via vacuum pressure. After vacuum forming, the acrylic is reinforced using fibreglass or structural polyurethane to create a strong, watertight structural shell.
Vacuum-formed acrylic hot tubs included jets mounted into the structural walls that were powered by pumps and fed with both rigid and flexible tubing. Early designs were combined with a wooden cabinet (skirt), typically made of redwood, mahogany or cedar, and often reflected the old-style wooden barrel designs that inspired them. These new hot tubs were truly portable and could be moved to a new location if the owner decided to relocate or upgrade.
Additionally, these models had improved filtration systems to help keep the water clean, and heaters to maintain the water's temperature. Early acrylic hot tub models utilized gas heating; however, they were replaced with high-efficient electric heaters, which soon became the industry standard.
One of the biggest advantages at the time was the hot tub water was constantly hot, which meant it could be used at anytime. The improved filter systems also made water maintenance easier and the water stayed cleaner longer. These advancements helped the product evolve and grow in popularity, as they became easier to maintain and own.
Also around this time, hot tub owners started using insulated covers made from expanded polystyrene (EPS) and marine-grade vinyl, which were designed to retain heat and provide safety.
Modern concepts, new designs
While wooden hot tubs and soakers still exist, modern hot tubs are available in several different forms, from plaster (inground models) to portable, self-contained units made of thermal plastic, fibreglass, vinyl and acrylic, the latter being the most popular. Continued improvements in materials and acrylic hot tub manufacturing allowed designers and engineers to create new and exciting shapes in a variety of sizes, along with more comfortable seating and targeted therapy designs.
Improved seating configurations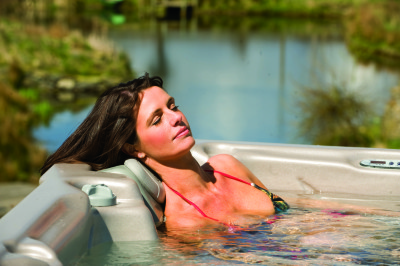 Today's hot tubs feature ergonomically driven specialized seating configurations (e.g. layback lounges, deep therapy, cool down, wrap around/pivot seats and built-in sun decks), which have allowed consumers to choose the design that best suits their needs.
Today's comfortable hydrotherapy seats combine good body positioning with proper jet patterns and effective nozzle selection to provide a constant healing state for sore muscles and joints. With an understanding of buoyancy and proper ergonomic application, these seats provide ultimate comfort and high levels of hydrotherapy with minimal floating.
Another important element in seat design is the headrest. Combining hydromassage jets, an adjustable headrest and a soft pillow to cradle the head allows the jets to properly target the upper shoulder and trapezius muscles.