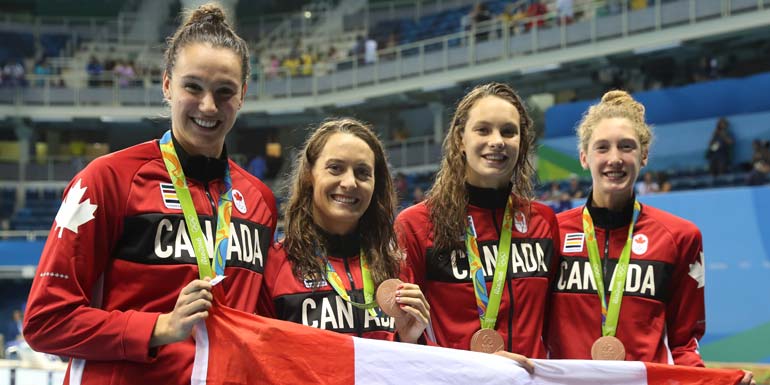 While different theories concerning the water quality of the competitive pools at the Rio Olympics made worldwide news, the performance of Canada's women's swim team made national headlines back home.
In fact, on the first day of competition, the 4x100m freestyle relay team, comprising Olympic rookies Sandrine Mainville, Chantal Van Landeghem, Taylor Ruck, and Penny Oleksiak, took bronze. Oleksiak went on to win three additional medals in the 100m butterfly (silver), 4x200m freestyle relay (bronze), and 100m freestyle (gold), making her the winningest Canadian athlete in a single Summer Games.
Other members of the 4x200m relay team included Katerine Savard, Taylor Ruck, and Brittany MacLean, in addition to Emily Overholt and Kennedy Goss who swam with the team during the qualifying round.
Hilary Caldwell also reached the podium, taking home bronze in the 200m backstroke.
According to a Swimming Canada report, Oleksiak's four medals ties her with the late Victor Davis for most medals by a Canadian swimmer, and her gold medal was the country's first since Mark Tewksbury won the 100 m backstroke in 1992.
In recognition of her success, Oleksiak was named the Canadian flagbearer for the Olympic closing ceremonies.
Being named flagbearer was a perfect ending for Oleksiak's first Olympics, Ahmed El-Awadi, Swimming Canada's CEO said in the report.
"To be named flagbearer is a tremendous honour for her as an athlete and as a person, as well as an honour for the sport of swimming," he added. "Her performance gave all Canadians a reason to celebrate, and her swimming family is incredibly proud of her and her accomplishments."
Two women on Canada's Olympic diving team, Meaghan Benfeito and Roseline Filion, earned bronze in the 10m synchro event, while Benfeito also received bronze in the individual 10m platform diving event.