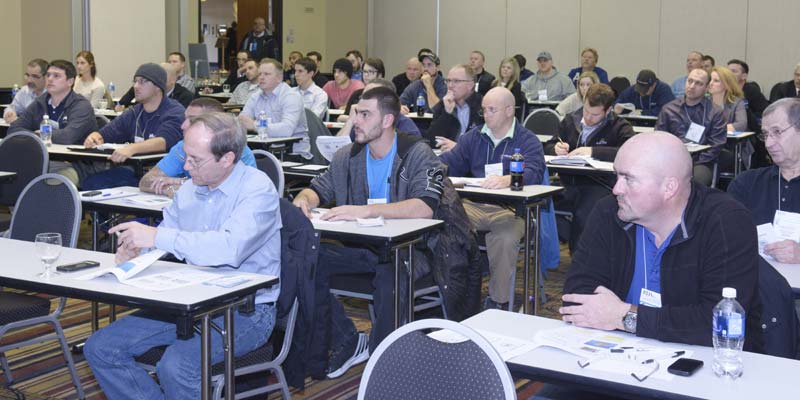 The National Swimming Pool Foundation® (NSPF®) will hold five Genesis University™ classes at this year's Canadian Pool & Spa Conference & Expo, organized by the Pool & Hot Tub Council of Canada (PHTCC).
The first offering, Construction 202-Reinforced Concrete Pools, is a single-day school with two sections:
Engineering 103-Structural Engineering
Construction 233-Best Practices for Shotcrete Construction as designated by the American Shotcrete Association (ASA) and American Concrete Institute (ACI). This module includes the ASA shotcrete nozzle operator education class.
A pair of Society of Watershape DesignersCM (SWDCM) masters, William Drakeley and David Peterson, P.E., will instruct the feature pre-conference class. The SWDCM master designation is the highest level a Genesis University student can achieve. This will be a paid class, separate from the others provided during the conference.
In addition, a collection of Genesis University classes will be offered during the Canadian Pool & Spa Conference & Expo's general conference program, including:
Engineering 201-State-of-the-Art Spa Details (1.5 hours/0.2 International Association for Continuing Education and Training (IACET) Continuing Education Units (CEUs). Instructor: Peterson
Construction 406-Pool Shell Cracking in Shotcrete/Gunite Construction (1.5 hours/0.2 IACET CEUs). Instructor: Drakeley
Construction 261-Vinyl Pools: The Perfect Fit (1.5 hours/0.2 IACET CEUs). Instructor: Chris Gregory, SWDCM registered.
Business 281-Water and Wellness (1.5 hours/0.2 IACET CEUs). Instructor: Lauren Stack, NSPF
For more details on the core focus and learning objectives of the Genesis University™ classes that will be available at the show, as well as instructor biographies, visit www.genesis3.com.