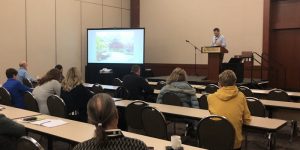 After 45 years, it can be sure the Green Industry Show & Conference (GISC) will continue to bring the landscape, nursery, garden centre, greenhouse, turf, and tree care industry together.
However, due to the impact of the COVID-19 pandemic, the annual event is moving to a virtual platform for 2020.
Exhibitors can still connect with current customers and conference attendees, plus build relationships with an entire new base of potential customers via face-to-face live video, chat and text, track attendees, and reinforce brand awareness.
The conference component will be a mix of live, pre-recorded, and on-demand content, allowing interaction with speakers for Q&A, even for pre-recorded content. Plus sessions will continue to be accessible online after the official show dates.
The Green Industry Show & Conference is scheduled for November 19th and 20,th 2020. For more information or to register, visit www.greenindustryshow.com.