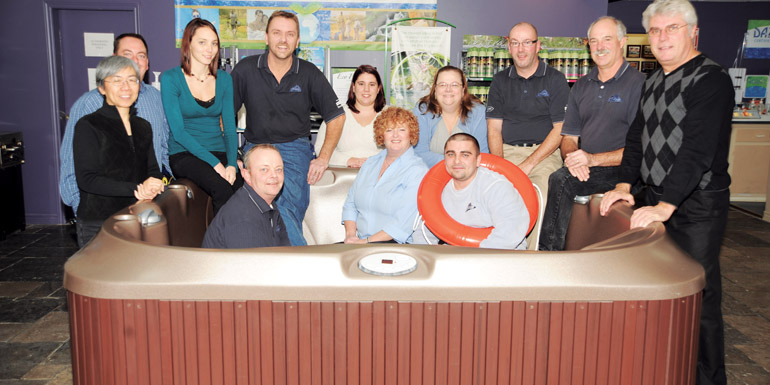 By Kristine Archer
When Hollandia Pools & Spas first opened for business 60 years ago, pools weren't even part of the picture. Founder John Guildemond started the company as a landscaping firm called Hollandia Gardens. It wasn't until a few years later, when pool requests started coming in, that Guildemond expanded into the industry that would make his London, Ont., company a lasting success.
All in the family
The pool industry treated Guildemond well; at one point, the entrepreneur even opened his own fibreglass mould fabrication plant to support demand. After the plant was destroyed in a fire, however, Guildemond decided to switch focus to concrete pools, taking on both residential and commercial projects.
Current co-owners, Ed Spitters and Walter Schmoll, got involved in the business by way of their connection with Guildemond—each married one of the founder's daughters. Spitters, who spent several years working shifts at Labbatt's, made the move after a fateful phone call from Guildemond and Schmoll (the latter had already started working with Hollandia).
"In 1985, they called me and asked if I wanted to come into the business," Spitters says. "I thought 'Shift work is going to kill me,' so I made the jump—and 25 years later, I'm still here."
The more things change
In addition to its design and service offerings, Hollandia maintains a modest 465-m2 (5,000-sf) retail space, where it showcases its hot tub and eco-friendly line of pool chemicals. While the physical location has not changed much in the last several decades, Spitters says Hollandia has grown in leaps and bounds.
Several new staff positions have been added over the years, including an inventory manager and service manager. The company's vehicle fleet has grown to include more than 20 trucks, eight of them dedicated to service along with several specialty construction vehicles, such as pick-up trucks, trailers, a concrete pump and a spa dolly. Service is still a huge part of the business, Spitters says, one whose growth needs to be managed carefully.
"Initially, my goal for service was a 97-km (60-mile) radius," he explains. "Now we're into places as far away as Windsor and Owen Sound. We're probably going to a 161-km (100-mile) radius now. There are a lot of places not serviced by pool companies any more. Lots of the little guys—the one who ran the little 'mom and pop' shops—have retired, so we're going further and further."
One of Spitters' biggest challenges is deciding whether further expansion is warranted—and, ultimately, profitable.
"I have to ask myself, 'Is it worth going to Windsor for one or two pools?' On one hand, we want to grow that marketplace. Yet, we can probably make a half dozen calls in London instead of going to Windsor for a couple of pools and having our guys tied up all day. Plus, paying a dollar a litre for gas, fuel costs are a major concern."