An eye on the future
Spitters says staying on the cusp of emerging technologies, especially 'green' innovations, also gives Hollandia a leg up in the marketplace.
"Whether it's your dishwashing detergent or hybrid cars, everybody is trying to reduce their carbon footprint and we're trying to help with that. We want to have some clean air and a place where our children can live comfortably; we're doing it for the next generation."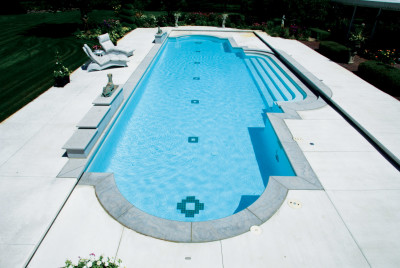 Among the technologies Spitters is excited about ultraviolet (UV)-based sanitizers, which the company has been advocating for the past three years.
"In my opinion, it is definitely easier on the pool and the environment itself," he says. "You can't backwash salt water forever without contaminating soil, which is why we've gone to UV residentially and commercially. We even have a UV sanitizer for our hot tubs. We challenged our UV supplier and they came out with a smaller unit that can fit under the hood of a hot tub."
Safety and maintenance issues are also still important to consumers, prompting Hollandia to more actively enter the pool cover market.
"We've done a lot more in the safety covers—mesh-type and trampoline-type covers. We've put safety covers on a lot of our commercial outdoor pools, too, trying to reduce the facility's liability. It's a benefit to them when nobody can fall in the pool when it's unattended for six or seven months of the year."
Spreading the word
Even a well-established business cannot afford to fall behind in marketing and promotion. As Hollandia celebrates its sixth decade in business, Spitters and Schmoll recognize the importance of embracing new technology.
"We're always updating our website, to keep our customers informed of what's going on at Hollandia," Spitters says, adding he and his staff have worked hard to keep up with the times.
"I'm not a computer guru, but I'm learning more and more about how to drive customers to our website. Our annual newsletter is on our website now; all of our sales are on our website. Customers can interactively schedule service calls, pool openings and closings, new pool appointments, things like that. We're doing a lot electronically."
We're also linked to the Jacuzzi website. When you get to our hot tub section, there's a Jacuzzi link there so customers can go through all the models, colour combinations, and other things they are interested in."
When it comes to advertising, Hollandia has had success in various venues. In addition to its website, the company has devoted dollars to radio campaigns and online directory listings. Membership in the Pool & Hot Tub Council of Canada (PHTCC) has also been valuable, Spitters says, as has the company's longstanding memberships with the Better Business Bureau (BBB) and the international Master Pools Guild.
"We just got our 25-year BBB tag," Spitters explains. "We like to highlight our ethics. After all, if you've been in business for 60 years, you have to be doing something right, because it just gets tougher and tougher."
With so many irons in the fire, Spitters says his biggest obstacle is balance.
"My primary challenge is advertising," Spitters says. "Do I market Hollandia, do I market Jacuzzi, do I market Master Pools? I'm trying to tie those three brands together as best I can. That's a challenge, to try and let people know that, yes, first and foremost we're Hollandia, but we're also an authorized Jacuzzi dealer and a member of the Master Pools Guild."
Time to celebrate
This year, tackling those ever-present challenges will be tempered with a spirit of celebration. As the company's official anniversary approaches, Spitters and Schmoll are looking for ways to properly commemorate the milestone.
"We're planning a major event to celebrate," he says, noting the event will likely take place in early summer.