A strong partnership
Today, Spitters and Schmoll work on making those difficult decisions together, with each partner focusing on areas where their strengths lie. Schmoll is the more technical of the two, handling commercial construction, where he is heavily involved in the bidding process. He also oversees residential projects. Spitters, on the other hand, directs his energies to marketing, promotion and growing the business.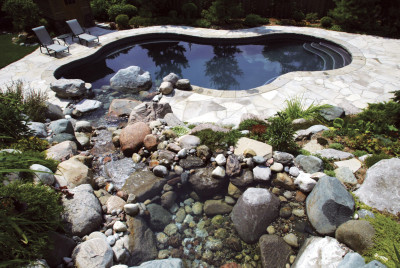 "The commercial part of the business is growing a lot quicker than the residential side," he says. "I would say sales are probably a little bit higher now on the commercial end than on residential pools."
The company boasts several commercial clients. In its hometown alone, Hollandia has built pools for Thames Park and the Carling Heights Optimist Community Centre.
One of its most recent and notable projects was the competition pool at the University of Western Ontario's (UWO) $35.7-million student recreation centre. Hollandia installed the eight-lane, 50-m (164-ft) pool, complete with accessibility aids such as a lift, barrier-free locker room entrances and a gallery with wheelchair-friendly seating areas.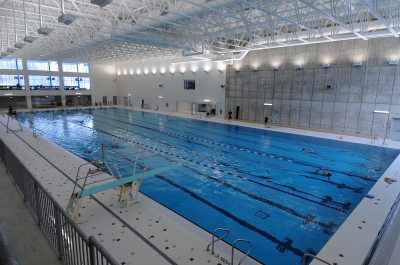 Over the years, Hollandia has also overseen commercial projects across Canada. While this adds another dimension to the business, it also places extra demands on employees. Finding a balance is vital to success, Spitters says.
"We will send our key people out to the locations—our site supervisors and all that—and hire local talent to do the grunt work. The challenge is that one guy doesn't want to get tied up in Portage La Prairie, Man., for the whole summer. It's not conducive to a happy wife," he says, with a laugh. "So, we rotate our supervisors out. We're trying to balance having the right people in place, while allowing them to have time to come home and be with their families. That's the downside of commercial work. You're all over the map."
Adapting to the market
In addition to its commercial projects, Hollandia also designs full residential backyards, including landscaping, hardscaping and various water features, such as fire-and-ice designs, negative edges and waterfalls. Landscaping and stone work are sub-contracted out, but Hollandia has a strong hand in design and planning.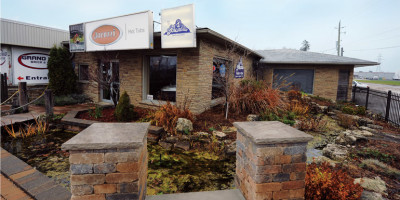 When asked why the residential side of the pool business is taking a back seat to commercial projects, Spitters says he thinks its an issue of changing demographics.
"People are getting older and they're not looking to buy swimming pools," he says. "If they do, its little splash pools—or hot tubs, for that matter." As such, Spitters says hot tubs have become big business for Hollandia.
"We carry the Jacuzzi line, which is something I'm pushing with our retail manager." Of course, with popularity comes stiffer competition, as different players try to cash in on a lucrative market.
"Hot tubs are very competitive," Spitters says. "We have probably 12 players in London alone, not to mention the weekend warriors and warehouse guys who bring in a container or truck-load of spas and sell them at parking lot sales."
He admits Hollandia can't compete with the rock-bottom prices these salesmen offer, but is quick to point out that selling at cost is not part of Hollandia's overall business model. The company chooses to focus on the high-end market, as it has over the course of its 60 years.
"We've never been a price-oriented company," Spitters says. "We've always had high-end concrete and vinyl pools. The commercial pool market in itself is very competitive; those are all big-dollar projects."