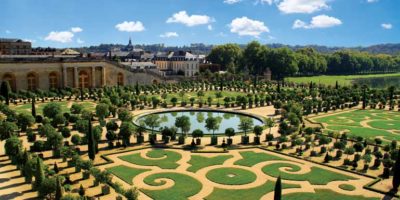 Early landscape designs
Long before landscapers and pool builders could begin using design software to create personalized projects for middle-class urban and suburban homeowners, it was typically used to build private outdoor retreats on estate properties.
While early landscape plans are plentiful in library and museum archives, as well as in printed histories of the field, those plans reflect the needs of the wealthy estate owners who commissioned the designs. Those lawns, sports courts, fountains, 
and gardens functioned as status symbols and typically required a dedicated staff 
to maintain.
As expensive and vast as many of those plans were, those early landscape designs set patterns that are still common today: green lawns with garden paths, room for children to play, and space for families 
to entertain.
For example, in France, the orderly lines and symmetrical plans for the Gardens of Versailles, designed by André Le Nôtre in the 1660s, came to define the rather formal French garden style.
In the U.S., Thomas Jefferson helped to establish the grid system, which is still used today. His plans for Monticello in Virginia helped to popularize the goal, still frequently requested by clients, of co-ordinating the landscaping to the architecture while incorporating impressive views of nature.
This is also true of most landscaping found in England. For example, Highclere Castle, which is best known today as the setting for the television series, Downton Abbey, was landscaped by one of the earliest famous landscapers, Lancelot 'Capability' Brown. In the 18th century, he persuaded estate owners to embrace a naturalistic over a more formal style.
The 'natural' style of sweeping lawns, curving lines, and designs that match the landscaping to the style of the home remains popular with today's clients.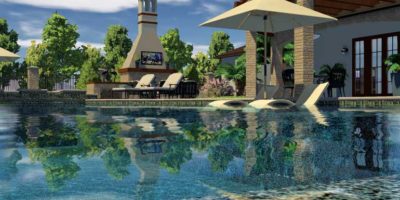 Three-dimensional pool and landscape design
During the 20th century, the same period 
in which homeowners started requesting landscaped lawns and private pools, also saw the emergence of computer technology that made it easier and more affordable for designers and manufacturers to offer these clients the outdoor living spaces they wanted.
As expensive and time consuming as early 3D graphics programs were, technological advances meant designing plans on a computer—instead of using pen and paper. This alternative was quickly embraced by pool and landscape designers.
Computer-aided design (CAD)
When first introduced, following Sutherland's Sketchpad and other similar earlier software, CAD programs in the '70s were cumbersome, costly, and had a steep learning curve.
Even with those deficiencies, CAD quickly became the norm in design-oriented fields, making it possible for a wide variety of users—from architects and engineers to landscapers and pool builders—to create precise, accurate drawings that could be rendered into 3D objects.
Benefits of CAD
The early popularity of design programs using CAD was based in part on the ease with which changes and edits could be made, compared with the difficulty of fixing mistakes on, or making changes to, freehand sketches and pen and paper drawings.
Design software, with its precise calculation tools, made technical drawings simple to achieve. Designers could add as much or as little information required, easily saving, updating, and duplicating designs. However, because early CAD software required an expensive financial commitment and time investment, only the biggest companies with the deepest pockets initially took advantage of the technology. That said, it took more than 20 years for early CAD software to become affordable for smaller companies and freelance designers.
By the '90s, CAD software became flexible and affordable enough that smaller pool and landscape design businesses could afford a computer with a graphics card capable of running the software.
For landscape designers and pool builders, however, the 3D capabilities of early computer graphics programs were not developed enough for them to use as a tool to influence a client. For example, trees, fundamental to a landscaper's design, took painstaking work, and often looked more like pixelated clumps of green triangles rather than realistic trees that would later become available in the 3D design software that was developed specifically for the pool and landscape design industry.