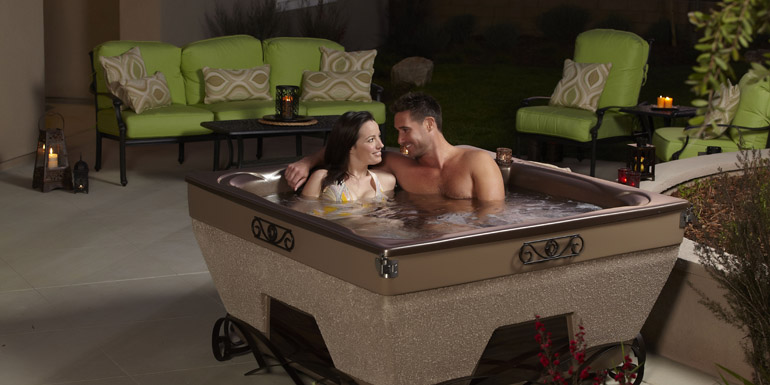 By Vic Walker
With the economy still on the rebound, many consumers are looking for smaller hot tubs for a variety of reasons. For instance, these models are perfect for those who have moved from larger homes into smaller ones but would still like the luxury of a hot tub. For others, it may be the low price and perceived value of an entry-level hot tub, or simply because the kids have moved out and the large, family-size hot tub is no longer necessary. For these reasons, as well as many others, the plug-and-play hot tub market is growing.
Plug and play: A hot tub definition
Originally used to describe components for a computer system that are easy to install, the term 'plug and play' today is heard quite frequently as it has become synonymous with anything that is simple for the consumer to buy and install themselves.
The same can be said of plug-in-play hot tubs. These units are designed to operate on 15 amps (maximum) and can be easily connected to a common household outlet. As a matter of fact, the first Jacuzzi pump was a small portable device that plugged into the wall and was simply dropped into a bathtub for hydrotherapy purposes. This plug-and-play product spawned the entire hot tub industry.
While plug and play products have been available for decades, this hot tub category has seen considerable growth in the last few years. As a result, many hot tub manufacturers now offer a large variety of plug-and-play designs, ranging from single-person to full-size (i.e. five-to-six person) models. These hot tubs are distributed to all parts of the world as the cord (which includes a built-in ground fault circuit interrupter [GFCI] to provide a safety circuit) and control systems can be easily configured to match each region's standard outlet designs and electrical requirements. In North America, a typical domestic plug-and-play hot tub uses a standard three-prong plug. Most homes have at least one or two exterior outlets (usually installed by the builder) that can be utilized to provide power.
Heating methods lend to simplicity
One of the reasons these hot tubs can be easily installed on an existing electrical system using a standard plug is because they are typically built with smaller 1-kW heaters.
Another design variation recaptures heat created by the pump to increase the water's temperature. These units obviously take longer to heat the water as they do not have a dedicated heater.
Advantages over standard hot tubs
Plug-and-play hot tubs offer consumers a number of advantages over larger, traditional hot tubs. The most obvious is their easy, no-cost installation, which offers instant gratification in that most plug-and-play hot tubs can be delivered same-day, set up and plugged-in immediately. The homeowner can then use their new hot tub as soon as the water reaches the desired temperature. This ease of installation is very appealing to first time owners.
In comparison, larger 220/240-volt hot tubs require a licensed electrical contractor to install an appropriate-sized breaker, GFCI and disconnect, as well as the correct wire gauge and associated conduit. Depending on the installation and permit process, purchasing and installing a traditional hot tub can take up to a week, or sometimes longer.
What do consumers look for in a plug-in-play product?
New manufacturing techniques and components have allowed fabricators to develop improved designs, which have made these entry-level products more appealing to consumers. For instance, they are more energy efficient, have bigger motors as well as more jets and features (e.g. light-emitting diode [LED] lighting and waterfalls) that are more commonly found on larger, more expensive hot tubs.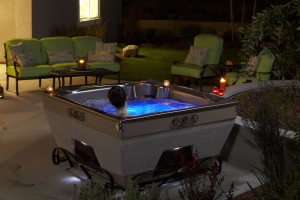 As mentioned earlier, some consumers are previous hot tub owners who have downsized. These consumers are savvy about hot tub features and are more likely to look for the same options if available on a plug-in-play unit. These additional features help add ambiance and value to a fast growing segment of the hot tub industry.
Similar to other hot tub products, plug-and-play designs are available with a wide variety of features. Although many can be considered subjective, some are more important than others. Basic items such as pump size, number of jets, style of jets (air or water), interior/exterior lighting (LED or incandescent) and type of cover (hard or soft), are some of the features that should be considered when choosing a hot tub.