Slide pads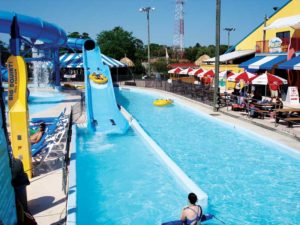 For slides with an open run-out, the safety concern is the exit. For example, users of these slides in water playground applications are exiting into shallow water areas and, depending on their momentum, may come in contact with the concrete pool floor. Therefore, it is important to add safety padding at the exit of these slides so users land on a soft, padded surface to help avoid injury.
As previously mentioned, safety padding systems should include an ASTM International certified slip-resistant texture. These pads are commonly sold in 1.2 x 1.8 m (4 x 6 ft) and 1.2 x 2.4 m (4 x 8 ft) sizes and should adequately cover the slide's landing area in shallow water. It is important to take the time to observe patrons using the pool to determine the areas of potential injury before purchasing safety padding.
In addition to shallow areas at the slide exit, padding behind the slide ladders should also be considered. Falling from a ladder can be extremely dangerous. Following an example set by the playground industry, aquatic facility managers should ensure slides have safety padding in the water and on the pool deck.
Further, many aquatic facility managers are now even requesting custom bumpers to protect the heads of patrons as they enter a closed-flume slide. Patrons who are not paying attention to the slide's entry height, or are attempting to lift their heads within the closed flume, can become injured. Therefore, sufficient padding at the slide entrance is an excellent preventative measure.
Column pads
Aquatic play features come in a wide array of configurations. Many are made of metal columns that rise vertically from the deck or pool floor. These columns are typically used throughout waterparks, splash areas, activity pools, and even some standard pool facilities. These play features have increased patronage immensely as pools become more attractive and offer water play areas for all ages.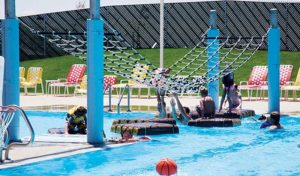 However, the increased attendance and a propensity for children to run in and out of the different water features makes having extra protection on these columns important, as they help to avoid head injuries. Whether these columns are holding netting and ropes for popular 'lily pad walks' or are simply wrapped around vertical poles in a splash play area, the added cushion on these hard columns keeps patrons safer.
Edge pads
These 90-degree pads are installed onto the deck over the edge of the pool wall and into the water. Just as the name suggests, they are placed on hard pool edges to provide extra protection where patrons may frequently bump against during aquatic play. For example, edge pads can often be found near 'lily pad walks' to protect those who may fall off near the edge of the pool.
These pads also come in handy in shallow pool areas where children play tag, toss beach balls, or in areas where smaller children play and are more likely to fall onto the pool wall edge.
Even access ramps, ladders, and rails can potentially become areas of impact to bathers. That said, some facilities pad entire shallow end walls as an affordable way to increase safety in and around the pool.